BLINK GOES PINK: BLINK TATTOO REMOVAL KICKS OFF THEIR BREAST CANCER AWARENESS EFFORTS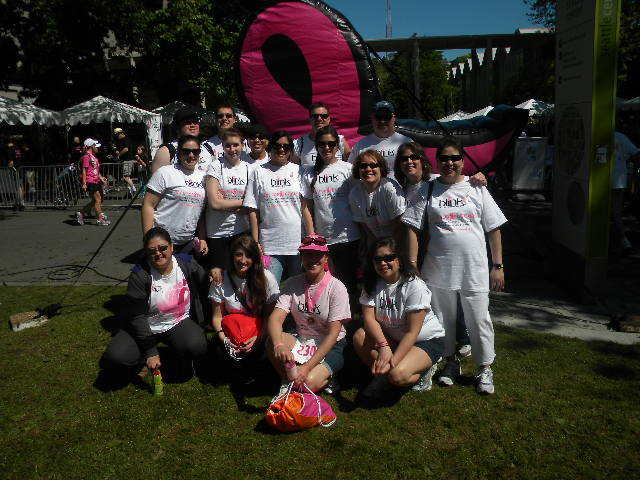 SEATTLE, WASH.-(June 15, 2011)- Blink Tattoo Removal launched their Blink Goes Pink campaign earlier this month at the 2011 Susan G. Komen Race for the Cure on Saturday, June 5 at Seattle Center. And what better way to kick things off, than to support one of their own. Yolanda Anderson, a 5 year breast cancer survivor, who works at Island Dermatology (
www.island-derm.com
), participated in the race with her 16-member team of heartfelt friends and family. Island Dermatology and Blink Tattoo Removal teamed up to show Yolanda a large dose of gratitude for her dedicated hard work and for being an inspiration in her fight against breast cancer.
On May 31st, 2006 Yolanda was diagnosed with breast cancer. With the support of her husband, 4 children, and a large network of family and friends, Yolanda underwent 6 chemotherapy treatments. Yolanda now celebrates her 5th anniversary cancer free and her 5th Susan G. Komen walk. Yolanda has worked alongside Dr. Frank Baron for 14 years and has dedicated 10 of those years to Island Dermatology. She is a vital, well-loved member of the Blink/Island Dermatology team and she leads by example in the way she cares for patients.
Both Blink Tattoo Removal and Island Dermatology donated $275.00 (a donation totaling $550.00) toward Yolanda's walk. That is $1.00 for each of Blink's current Facebook friends. Blink's sponsorship also provided Yolanda with team shirts to unify them as they walked.
During the 2011 summer months and into fall, Blink Tattoo Removal's Blink Goes Pink efforts will be emerging all over the Pacific Northwest. Blink Goes Pink is a dedication to fundraising, volunteer and sponsorship opportunities through a variety of breast cancer awareness groups. The Blink Goes Pink campaign emerged due to a strong belief that every effort, small or large, makes a difference.
Located in Seattle, Bellevue, Olympia, Edmonds and Fort Lauderdale, Fl., and Los Angeles, CA., Blink Tattoo Removal affiliates are committed to using only the safest and most effective laser technology to ensure the greatest likelihood of removal. Blink is only affiliated with licensed medical practices ensuring the greatest degree of safety, security and trust for you at every step of the process. You can be confident that a Blink Tattoo Removal affiliate has been carefully selected to adhere to standards of care required to meet your needs. Learn more at
www.blinktattooremoval.com
.
For further information, inquires, or to find out how you can get involved with the Blink Goes Pink efforts contact Kari Thomas at
kthomas@island-derm.com
.
Email Blink Tattoo Removal