International Lawyers Network Launches New Website, www.ilntoday.com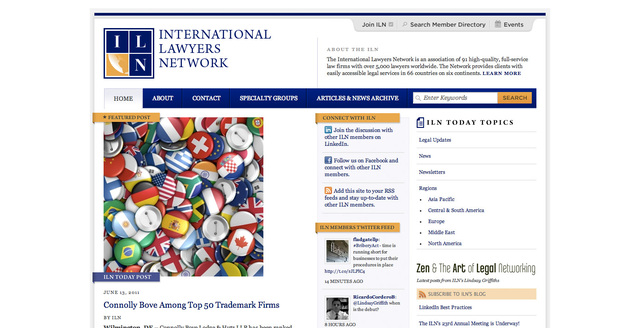 New York (June 16, 2011) – On Wednesday, the International Lawyers Network announced their new content-driven website at
www.ilntoday.com.
The launch coincided with the ILN's 23rd Annual Meeting, held in Lisbon, Portugal, where members got a sneak peek at the new site.
The redesigned site embodies the latest technology to best serve the growing needs of ILN members and their clients, and provides a variety of benefits, including:
Up-to-the-minute legal content and news from law firms in 66 countries around the world.
RSS feeds to deliver content directly to your desktop.
Direct connections to ILN members and Administration through a member Tweet stream, Facebook and LinkedIn.
"Member firms and visitors to our site will now experience a much more rich content experience and the ability to engage with the attorneys authoring the content," says Alan Griffiths, Executive Director for the ILN. The ILN's Director of Network Development, Lindsay Griffiths, adds "The new site is all about live content and being social – we want visitors to the site to get information the way they want it and be able to connect with us from one place. We've really made visits to the ILN more exciting and informative than ever."
The new website will provide members with the opportunity to access their ILN colleagues through social media and stay up to date on breaking legal news around the world, as the main emphasis of the site is the latest news and events associated with each and every firm member.
Visitors can also participate in dialogue about current legal issues through commenting directly on ILN posted articles or on syndicated posts from member firms. In addition to providing notice of events, programs, webinars, and other activities, the ILN blog, and those of member firms will provide insight and opinions about critical new legislation, court decisions, and other topics of legal interest.
About the ILN
The International Lawyers Network facilitates personal relationships among lawyers in mid-sized law firms all over the world, allowing them to confidently operate in a global marketplace while retaining their independence and local expertise. As one of the largest networks of experienced attorneys in the world, the ILN provides a platform for clients to access quality legal professionals worldwide with the cost-effectiveness and personalized service only independent, regional law firms can provide. With 91 high-quality, full-service and specialized law firms and over 5,000 lawyers in 66 countries on six continents, the excellence, demonstrated experience, worldwide presence, and relationships of the International Lawyers Network combine to make this Network one of the leading associations of independent law firms in the world. The ILN: Where lawyers become friends.
Email International Lawyers Network