Personal Injury Lawyers at Cellino & Barnes Celebrate Huge Success at Last Week's Corporate Challenge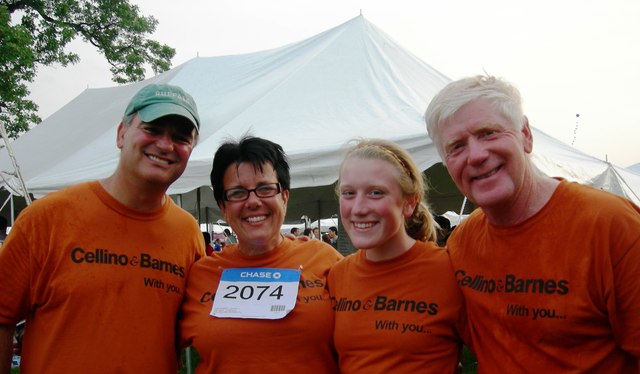 For the third consecutive year in a row, the
New York personal injury lawyers
at Cellino and Barnes, P.C. participated in the JPMorgan Chase Foundation Corporate Challenge, an annual series of 3.5-mile road footraces, focused on promoting fitness and well-being in the workplace.
Last week's event was a massive success for the Cellino & Barnes athletes. Cellino and Barnes would like to individually recognize the top-performing athletes of the night: Kelly Dolmanet, with a time of 33:34,
John Looney
, with a time of 26:42, and, in first place, and
Steve Ciocca
, with a time of 25:36, respectively.
"It was a great time spent with co-workers, friends and family", said Ross Cellino,
personal injury attorney
. "Our community really came together in support of various not-for-profit organizations."
There were over 60 individuals attending the Corporate Challenge on behalf of Cellino & Barnes; all of which enjoyed the high-quality catering services of Charlie the Butcher.
Ross Cellino
and
Steve Barnes
both successfully participated in the Corporate Challenge.
Cellino & Barnes is a
personal injury firm
with over 50 years of experience and can offer the knowledge and expertise to get you the results you deserve. Contact Cellino & Barnes today, 800-621-2020.