Happy Chef introduces a new line of CookCool performance chef wear featuring integrated cooling technology.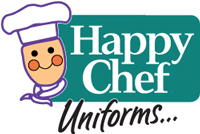 Butler, NJ (June 29, 2011) – The Happy Chef, Inc. today announced its revolutionary new line of CookCool™ performance apparel for chefs and food service providers. These products, which include a wide array of coats, pants, and headwear, promise to bring a new standard of comfort to culinary professionals in domestic and international markets alike. Happy Chef has engineered CookCool to keep the body cooler utilizing two advanced heat regulation mechanisms.
CookCool Hydrophilic Microfiber is a scientifically developed fabric that wicks sweat away from the skin. This fast-acting technology then moves moisture to the external clothing surface, where it rapidly evaporates to provide additional cooling.
Happy Chef also revealed several products woven with CookCool Mesh that augments traditional cotton-based fabric with passive-breathing vents that allow apparel to exchange hot air with cool external air.
These mechanisms use the body's natural movement and environmental air flow to lower body temperatures progressively throughout the day.
"We know kitchens get unbearably hot, so we designed CookCool apparel to keep chefs cooler in any heat," said David Barr, Vice President of Sales at The Happy Chef, Inc. "CookCool represents a fusion of new technology with the proven durability and value of Happy Chef."
All CookCool apparel features one or both of these technologies to provide culinary professionals with consistent cooling in hot cooking conditions. Additionally, Happy Chef announced that CookCool will be available in a variety of sizes, colors, and styles, in both men's and women's fits.
About The Happy Chef, Inc.
Happy Chef® is the leading manufacturer and provider of affordable culinary uniforms, from chef jackets to pants, among food service professionals. Founded in 1985 by Chairman Joseph H. Nadler, Happy Chef has grown from a local apparel provider to an international distributer of chef wear, footwear, cutlery, and other food service necessities. Known for industry-leading value, durability, and customer service, Happy Chef is also host to the largest virtual cooking community with a Facebook following of over 66,000 members as of this writing.
For additional information about The Happy Chef, Inc., visit
www.happychefuniforms.com
or call 800-347-0288. The Happy Chef, Inc. is an A+ accredited Better Business Bureau registrant and is headquartered at 22 Park Place, Butler, NJ 07405-1371.