Top Rated Reverse Phone Lookup Site Just Got Better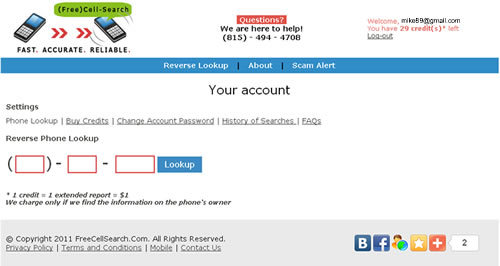 Need to find out who is calling you? A
reverse phone lookup
will help you get the info about almost any phone number, including unlisted mobile numbers. Venture i. S.A. has announced the arrival of its new improved service for tracking those anonymous phone numbers which often create unnecessary mysteries in our lives. FreeCellSearch.com now has more databases for your perusal than any other similar site.
Thanks to the new partnerships with third party data brokers, private directories and prominent phone number tracking sites (all of which being utilized to power your searches), you are now much better equipped to run your own "private investigation" into the realm of unknown numbers than ever before. And it won't cost you a fortune either.
The new billing solution based on credits, which you basically buy in order to run a premium search that will check for the name and other details of the phone number owner, is a more flexible option than other expensive one time tracer reports. Credits never expire and can be used towards your future lookups. And you can always request a full refund for unused credits at any time.
In addition to higher odds of finding a match, there are a few new features added to the site. A new blog hosts useful articles about various aspects of cell phone technology. A mobile version of the site can be used by those who need to run lookups on the go from their mobile phones. And accuracy scores will be added soon and announced in a separate release.
Notices
Cell phone numbers cannot be found in public directories because "legislation HB 2479 states that in the U.S., cell phone owners pay for both incoming and outgoing calls, and they have a reasonable expectation that their numbers will not be given out or sold. The bill states that cell phone numbers should not be accessible to the public when subscribers paying for cellular service expect their numbers to remain private. HB 2479 makes it illegal for cell phone companies to provide the numbers of their subscribers to companies that want to use the information for commercial purposes". Source: PhoneDetective.com
Also note, that a cell phone lookup service may not be used to stalk, harass or otherwise disturb a person. As a general rule, you should only look up the numbers that already tried to contact you and showed up on your caller ID.