The Bogus Antivirus Program 'XP Antivirus 2012' Cheats Gullible PC Users Out of Their Money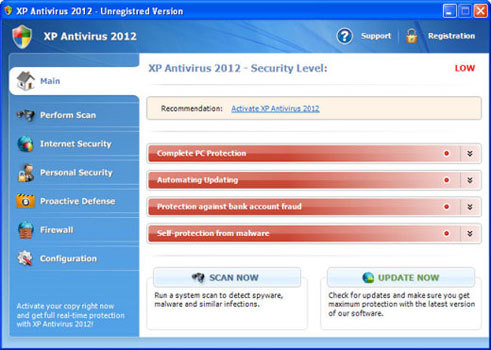 The security company Enigma Software Group has released a new version of their XP Antivirus 2012 removal report to better assist computer users with the task of successfully removing XP Antivirus 2012 from their system.
Computer users who may have encountered XP Antivirus 2012 know firsthand how annoying and deceiving this program is. XP Antivirus 2012 has been identified as a rogue anti-spyware program or a fake PC security application.
XP Antivirus 2012
has proven to be very difficult to remove from a PC because it is not listed in the add/remove programs list nor does it have an uninstaller.
EnigmaSoftware.com addresses the issues that computer users face when encountered by the rogue antivirus program XP Antivirus 2012. These issues include but are not limited to receiving misleading and annoying pop-up alerts and system scan results populated with fabricated results. These fabricated issues are used as a scare tactics and are part of a scam to swindle computer users out of money when they are tricked into purchasing a full version of XP Antivirus 2012. XP Antivirus 2012 is one of many rogue anti-spyware programs taking over the Web. Popular rogue anti-spyware programs are: XP Security 2012, Vista Anti-virus 2012, Vista Security 2012 and
Win 7 Security 2012
, to name a few.
Whether it's the unlicensed or licensed version of XP Antivirus 2012, neither are able to rid a PC of malware. Due to that simple fact, computer users are suggested to avoid paying money for the XP Antivirus 2012 program as outlined in the XP Antivirus 2012 Removal Report.
EnigmaSoftware.com offers a full XP Antivirus 2012 Removal Report with specific resources to assist with successful removal of XP Antivirus 2012. The full report can be found at:
http://www.enigmasoftware.com/xpantivirus2012-removal/
Email Enigma Software Group USA, LLC