Watch Out! Fake Security App 'Personal Shield Pro' Wants to Infect Your PC and Take Your Money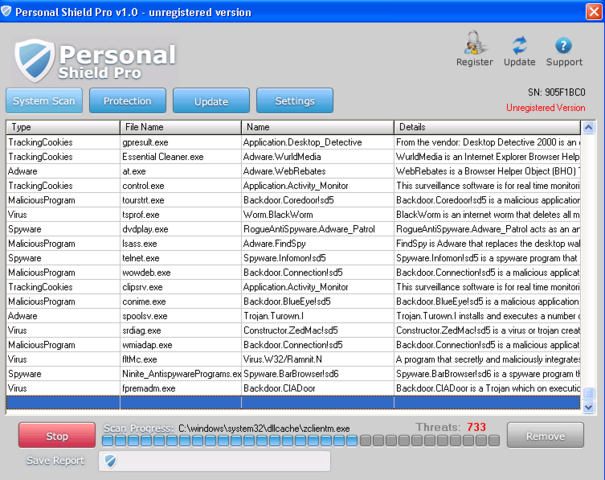 EnigmaSoftware.com, among other trusted security research companies, has confirmed that the PC program that goes by the name of Personal Shield Pro is a bogus security application and ultimately a scam.
Computer users who have Personal Shield Pro installed on their system may have thought that it was an application designed to report issues and detect malware threats. These same computer users have also fallen victim to a scam that Personal Shield Pro renders through deceptive notifications and system scan results. Basically, Personal Shield Pro is a plagiarized security tool that mimics the look of trusted security programs and the Windows XP operating system.
EnigmaSoftware.com has experienced virtually thousands of bogus security programs where most of them are designed for the specific task of extorting money from unsuspecting computer users. What is different about modern-day rogue anti-spyware programs such as Personal Shield Pro, is that it utilizes a name mocking a popular operating system or it has a cleverly designed interface that wins a computer users trust due to its familiarity. Personal Shield Pro may sound like a real software but it's only another version from a large list of nastyt rogue anti-spyware programs. Among them are Windows XP Repair,
System Smart Security
, Win 7 Anti-Virus 2012, Windows XP Restore, and XP Home Security 2012.
A new removal report released by EnigmaSoftware.com explains how Personal Shield Pro is able to confuse and scare computer users into purchasing a licensed version of Personal Shield Pro, which is unable to fix any detected issues or threats. The same removal report also indicates that Personal Shield Pro renders these misleading tactics to get as much personal information and money out of naïve computer users.
Fortunately, EnigmaSoftware.com provides information to assist computer users with removing the
fake Personal Shield Pro program
. Because Personal Shield Pro is not listed in the add/remove programs feature for Windows, it has proven to be difficult to nearly impossible to manually remove from a PC. Manual removal may require a user to edit registry entries which is a task not suited for a novice computer user. In other words, someone unfamiliar with the inner workings of Windows may seriously cause damage in their attempt to remove Personal Shield Pro. One of the resources provided on EnigmaSoftware.com's Personal Shield Pro Removal Report is specifically designed to automatically detect Personal Shield Pro and any related files.
The complete Personal Shield Pro Removal Report is available at:
http://www.enigmasoftware.com/personalshieldpro-removal/
Email Enigma Software Group USA, LLC