TeamLab's Online Document Editor: One-Year-Old Prodigy Ready to Compete with Google Docs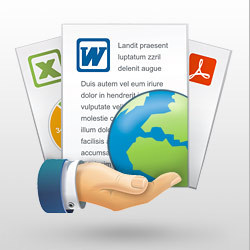 Riga, Latvia - Ascensio System SIA, the developer of IT solutions for corporate use, announces the launch of the TeamLab online document and spreadsheet editor to mark the collaboration platform's first anniversary.
For a one-year-old
TeamLab
is a prodigy child, as the startup has turned into a comprehensive document and project management system organized in four multi-functional modules available in three deployment solutions with more than 30,000 portals created by now.
The anniversary release mainly covers the
Documents module
that was launched last of all the principal components and is being continuously enhanced to ease all the file management and sharing operations. In addition to the existing Open Office driven toolset TeamLab now boasts online doc processing: to work with a word document or a spreadsheet users can get advantage of real-time OS independent editing in the browser with no additional software required.
The improvement in the Documents module contributes to making TeamLab a unique collaboration tool due to a number of competitive strengths. The platform appears to be the only one in the field of project management solutions to provide not only file sharing but also online word processing. In contrast to Google Docs and other similar systems that focus only on document management, TeamLab combines a wide
project collaboration feature array
with the ability to create, share and edit files right on the corporate portal in the Documents and Project Management modules.
Antony Smirnov, Project Manager, says: "The one-year anniversary is a good occasion to analyze the first but already significant fruits of our work. The increasing number of users is one of the most important indicators that we are on the right track. All our enhancements including a new version of the Documents module with the online editor introduced have been implemented as a result of a constant dialogue with our customers. Needless to say that the project would not have existed but for their attention and demand. All our team would like to express its gratitude to our users providing them with an online editor as a kind of birthday gift and assuring them that even more presents are ahead for them in the near future."
About TeamLab
TeamLab is a corporate platform for document and project management that integrates a number of online tools helping employees to organize business tasks, exchange news, manage corporate documents and communicate in real time. TeamLab is offered in 3 solutions: a cloud-based SaaS application, an open-source software and an image for Amazon EC2 service (TeamLab AMI). For more information refer to
www.teamlab.com
.
About Ascensio System SIA
Ascensio System SIA is a fast growing IT company developing collaboration solutions for businesses. For more information refer to
www.teamlab.com
.
For further information, please contact:
Olga Sorokina, PR Manager, Ascensio System SIA
Phone: +3727121714
Email:
Olga.Sorokina@teamlab.com
Email Ascensio System SIA