Fake Anti-Spyware Program Called Win 7 Security 2012 Reports False Computer Threats and Takes Your Money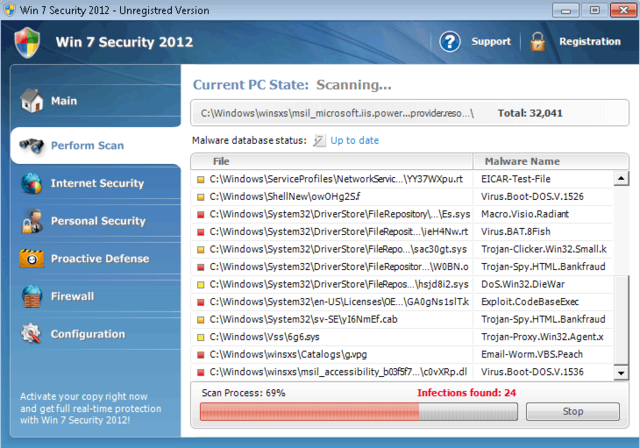 EnigmaSoftware.com has released a 'Win 7 Security 2012 Removal Report' to highlight the potentially devastating results one can have from the installation of this bogus PC security program. Within EnigmaSoftware.com's 'Win 7 Security 2012 Removal Report', resources are provided to assist computer users with complete removal of Win 7 Security 2012.
Win 7 Security 2012 is one of many various fake security applications created by hackers who use aggressive techniques to swindle computer users out of their money and personal information. In order to have as many innocent computer users fall into their online scam, these hackers have marketed fake security applications such as Win 7 Security 2012 in a fashion to closely resemble legitimate security programs. In doing so, Win 7 Security 2012 is thought to be a viable solution to detecting and removing malware on their computer but it is just the opposite. Win 7 Security 2012 is not the only rogue anti-spyware program taking advantage of computer users. Win 7 Security 2012 is similar to the following nasty fake anti-spyware programs: Win 7 Total Security 2012, Vista Home Security 2012, Win 7 Anti-Spyware 2012,
Personal Shield Pro Version 2.20
, XP Home Security 2011, Windows 7 Recovery, and Windows 7 Repair.
In an effort to stop these cybercrooks that take advantage of computer users through illicit security apps such as Win 7 Security 2012, EnigmaSoftware.com provides resources to assist computer users in detecting and
safely removing Win 7 Security 2012
. Win 7 Security 2012 has been known to be difficult to nearly impossible for many computers to manually remove Win 7 Security 2012 from their system. A novice computer user could easily cause damage to their system by attempting to manually detect and remove files and registry entries related to the Win 7 Security 2012 program.
Those who may have mistakenly purchased a full version of Win 7 Security 2012 will need to immediately contact their credit card company to make them aware of the situation that could result in fraudulent charges. If you do fall for the scam and purchase Win 7 Security 2012, you will not get a functional malware removal program. Basically, a purchased version of Win 7 Security 2012 is no better than the free one that may have been installed on your PC without your knowledge.
EnigmaSoftware.com has provided a comprehensive solution to deleting Win 7 Security 2012 in their Win 7 Security 2012 Removal Report. This report will assist computer users with detecting and removing the Win 7 Security 2012 program and can be found at:
http://www.enigmasoftware.com/win7security2012-removal/
Email Enigma Software Group USA, LLC