Hertz Furniture Contest Offers K-12 Teachers a Chance To Win a Home Office Set Through July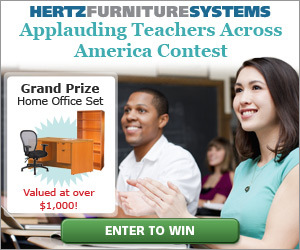 Mahwah, NJ (July 13, 2011) Since Hertz Furniture launched its Applauding Teachers Across America Contest in June, almost 1,000 teachers have written in to let us know why they or their colleagues deserve the grand prize. To acknowledge the time and energy teachers put in to educating America's children, Hertz Furniture is offering all active K-12 teachers in the continental United States a chance to
enter this contest
and be acknowledged for their efforts.
Hertz Furniture appreciates the hard work of teachers across America and strives to bring out the best in teachers and their students by supplying them with comfortable, durable
classroom furniture
for optimal learning. The company also has a wide range of Certified Green eco-friendly furniture to ensure that the many hours children spend in the classroom each day are in a healthy, safe environment with high-quality furniture.
The grand prize of the Hertz Furniture Applauding Teachers Across America Contest is a beautiful set of high-quality home
office furniture
that includes a desk and matching bookcase in American Cherry and a multi-function office chair with pneumatic lift. In addition, two first-prize winners will each win an ergonomic office chair with built-in lumbar support.
Hertz Furniture is excited to announce that the contest will continue through July 31, so there are still several weeks left to
enter
. Colleagues and students can nominate exemplary educators, and teachers can enter themselves as well. Entries
can be submitted via the Hertz Furniture Web site or by postcard sent to Hertz Furniture Applauding Teachers Across America Contest, c/o Hertz Furniture, 95 McKee Drive, Mahwah, New Jersey 07430. Winners will be selected in a drawing on or around August 1 and will be contacted within 10 days of the drawing.
"Teachers touch the lives of children every day," says Saul Wagner, president of Hertz Furniture. "They dedicate their lives to the future of America. Each kind word and warm smile goes a long way in bolstering a student's self-esteem and helping him do his best. Hertz Furniture wants to show its appreciation to teachers across America for putting their hearts and souls into the education of our children."
Thus far, teachers have been nominated to win the contest for a wide variety of unique and special reasons. One teaches in high-poverty areas and gives his all to students who had lost hope of ever succeeding. Another worked for decades in other fields before finding, through a volunteer tutors program, that her true calling was in education. One helped a self-contained autistic child to come out of his shell. "Every teacher is a precious gem and every teacher deserves appreciation," says Wagner.
About Hertz Furniture:
For 45 years Hertz Furniture has supplied schools, religious institutions, businesses and government offices with top quality commercial furniture and superior customer service. Speedy Quotes, Quick Ship products, a wide selection of eco-friendly furniture, a free project planning and design service and the best warranties in the industry are just a few of the ways that Hertz Furniture provides added value to its customers. For additional information on Hertz Furniture and its extensive line of products, please visit
www.HertzFurniture.com
, speak to a furniture specialist at 800-526-4677, or send an email to ahoffmann@hertzfurniture.