Dr. Dean Dornic Performs First Raleigh Area Laser-Enabled Corneal Transplant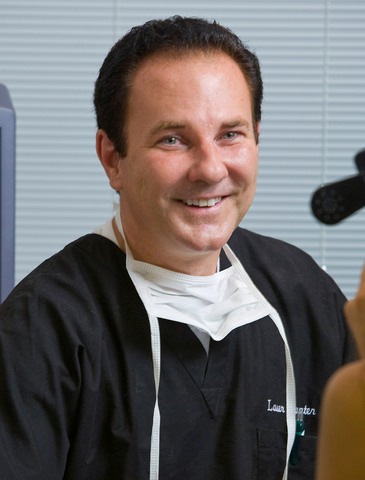 Medical Director, Dr. Dean Dornic, of the Laser Eye Center of Carolina has performed the first laser-enabled corneal transplant in the Raleigh, NC area it was announced today. The recipient of the first laser corneal transplant was a young 18 year old girl, blind in one eye from keratoconus, a progressive disease felt to have a hereditary basis.
Corneal transplants bring back sight to thousands of patients with diseased or scarred corneas every year. Many successful transplant recipients are resigned to a life of hard contact lenses to wear over the successfully transplanted corneal tissue because of the extreme amounts of corneal astigmatism or distortion that is a common outcome of such surgeries. Worse still, even small amounts of trauma to an eye which is not fully healed from the transplant surgery can result in disastrous consequences.
Today, most corneal transplants are performed using a cylindrical metal blade termed a trephine to remove the diseased cornea. The healthy donor cornea is then sutured into place using many tiny sutures. Dr. Dornic feels that the use of a laser is a better way to perform corneal transplants. "The laser is a more precise way to center the graft and decreases the risk of penetrating into the eye and damaging delicate structures in the process of removing the diseased cornea. Also there is a better match in terms of size and shape of the donor cornea and the recipient bed." said Dornic.
Dornic recently purchased Abbott Medical's iFS IntraLase laser which has FDA clearance to perform LASIK eye surgery and corneal transplants. he has the only iFS laser in North Carolina. A unique feature of this laser is the ability to cut complex shapes. Dornic has used this feature to create tongue-in-groove LASIK flaps which have made the flaps more secure. He believes the use of this feature will make corneal transplants safer and more secure. Another important benefit should be lower degrees of astigmatism. "I believe that the precision afforded by lasers in eye surgery will result in safer surgery and better visual outcomes. More patients will be able to lead a more normal productive life as result of these new advances in vision care." according to Dornic.
Dean Dornic MD is accustomed to pioneering in ophthalmology. He has offered Raleigh-Durham residents access to cutting-edge refractive surgery, corneal surgery and cataract procedures since 1998. He is the only private practice ophthalmologist in the area to perform Intacs, a corneal insert used in the treatment of keratoconus. He is also the first ophthalmologist in the area to perform IntraLase, an all laser LASIK procedure.
Dornic has offices in Cary and Smithfield, NC and is on staff at Rex Hospital, Johnston Health and Wake Medical Centers. For more information about Dr. Dean Dornic or his office locations, visit the Laser Eye Center of Carolina online at
http://www.visionauthorities.com
or his Smithfield, NC practice at
www.eyespecialistsofcarolina.com
.
Email Laser Eye Center of Carolina