HERTZ FURNITURE FEATURES A YEAR OF 45TH ANNIVERSARY SAVINGS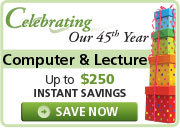 Mahwah, NJ (July 14, 2011) - As Hertz Furniture's 45th anniversary year, 2011 is chock full of savings opportunities on office furniture,
school furniture
, and church furniture. Each month throughout 2011, Hertz Furniture chooses a different room to feature with special prices and celebratory gifts. The featured room for the month of July is the Computer and Lecture Room, so get ready to stock up on essential furniture items from these categories.
In today's schools, the computer room is central to a well-rounded education. Students of all ages must learn to type, research, and navigate the Web in order
to succeed in the computer age. Lectures and multi-media presentations are essential in any high school and in many offices as well, and the proper equipment is necessary to make any presentation go smoothly.
Hertz Furniture has introduced an opportunity for Celebration Savings. For every $1,000 order that includes at least one computer room or lecture room item, purchasers will receive their choice of $25 instant savings or a $25 gift certificate for later use, up to a total of $250 in savings. Included in the promotion are
computer desks
and workstations,computer chairs, lecterns podiums, AV carts, projectors,
presentation boards and more.
In addition to this fabulous opportunity for Celebration Savings, Hertz Furniture is also offering special discounts throughout the month of July on select items of computer and lecture room furniture, including computer desks,
computer tables
, office chairs and
lecterns
at prices of up to 52% off.
"At Hertz Furniture, we know how expensive it can be to stock a computer room with the latest in hi-tech equipment," says Saul Wagner, the company's
president. "It's important to us that schools are able to furnish their classrooms with sturdy, high-quality, eco-friendly furniture so students have the very best learning opportunities. That's why we are offering discounts and Celebration Savings for schools that are looking to enhance their computer and lecture rooms at affordable prices ahead of the upcoming school year."
So that all customers can get exactly what they need for their schools, offices and sanctuaries, different "shop-by-rooms" will be featured every month for the rest of the year, with plenty of opportunities for discounts and instant savings. "This is Hertz Furniture's opportunity to give back to our customers and thank them for the loyalty they've shown us for the past 45 years," says Wagner.
About Hertz Furniture:
For 45 years Hertz Furniture has supplied schools, religious institutions, businesses and government offices with top quality commercial furniture and superior customer service. Speedy Quotes, Quick Ship products, a wide selection of eco-friendly furniture, a free project planning and design service and the best warranties in the industry are just a few of the ways that Hertz Furniture provides added value to its customers. For additional information on Hertz Furniture and its extensive line of products, please visit
www.HertzFurniture.com
, speak to a furniture
specialist at 800-526-4677, or send an email to ahoffmann@hertzfurniture.