Cricket Offers Dependable Simplicity with Kyocera Luno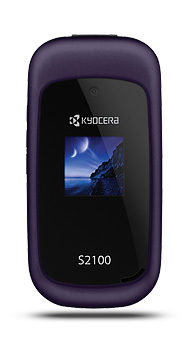 SAN DIEGO, July 14, 2011 — Cricket Communications, Inc., a leading provider of innovative and value-driven wireless services and a wholly-owned subsidiary of Leap Wireless International, Inc. (NASDAQ: LEAP), and Kyocera Communications Inc., provider of Kyocera- and Sanyo-branded wireless devices, answered the call for simplicity with today's launch of the Kyocera Luno at Cricket. Available for $59.99 MSRP and combined with the smart value of Cricket's unlimited talk, text & mobile data service plans, Luno is budget-friendly and offers streamlined key features in a dependable, high-quality
mobile phone
.
"Cricket recognizes that many consumers want a dependable, easy-to-use phone that's excellent for making calls and sending messages," said Matt Stoiber, vice president and general manager of devices for Cricket. "Cricket's unlimited, no-contract, flat-rate wireless plans and the Luno's affordable price create a smart value combination that can't be beat."
The Kyocera Luno is immediately available at Cricket branded retail stores, select dealers in all Cricket markets and online at
www.mycricket.com
. Luno's classic clamshell design features a deep purple exterior with large reflective inset and 1-inch color external display. It opens to reveal a 1.8-inch vibrant color display and a tactile keypad with visual separation for faster, easier SMS and MMS messaging and dialing. Luno supports Bluetooth® 2.1; BREW® 3.1.5 technology to download games, ringers, wallpapers and more;* and includes a WAP 2.0 browser* and VGA camera with 5x digital zoom. Impressive voice recognition features in English and Spanish include voice tags, voice digit-dialing, and voice response to help users be hands-free on the go.
"We've enjoyed a long history with Cricket and their customers," said Eric Anderson, senior vice president and general manager of sales and marketing at Kyocera Communications Inc. "While Kyocera's latest Android® devices are exciting for many, the high-quality, voice-centric device like Luno – with its unbeatable price point - is gaining favor again with people whose key features are voice and messaging."
The value and feature packed Kyocera Luno is offered with Cricket's all-inclusive
unlimited plans
, including the basic $35 unlimited talk and text, and the robust $45 plan which provides users with unlimited talk, text, 411 information, navigation, international text, unlimited picture messages, unlimited web browsing and more. In addition, the $45 rate plan provides convenient access to MyHomeScreen, MyBackup, and Cricket Navigator, a platform that gives users turn by turn directions without ever having to upgrade new map features like other expensive navigation systems.
For more information about Cricket's dynamic device lineup, please visit
www.mycricket.com
.
Information about Luno and other Kyocera mobile devices is available at
www.kyocera-wireless.com
.
About Cricket
Cricket is the pioneer of simple and affordable unlimited wireless services with no long-term commitments or credit checks required serving more than 5.8 million customers in 35 states and the District of Columbia. Cricket offers wireless voice and broadband Internet services over the latest technology, high-quality, all-digital 3G CDMA2000 1X and 1xEV-DO wireless network. Cricket's nationwide wireless voice service plans include unlimited anytime minutes, unlimited U.S. long distance, unlimited text and picture messaging, unlimited text to Mexico, unlimited Mobile Web, unlimited directory assistance, as well as a variety of calling features and feature-rich mobile applications such as popular games, ringtones and wallpapers. For more information on Cricket, visit
www.mycricket.com.
Cricket is offered by Leap Wireless International, Inc., headquartered in San Diego, Calif. For more information on Leap, visit
www.leapwireless.com
.
About Kyocera Communications Inc.
Kyocera Communications Inc. (KCI) is the headquarters for Kyocera- and Sanyo-branded wireless products and accessories in the Americas. The company's devices are driving the convergence of telecommunications, broadband and multimedia. KCI was formed in April 2009 through the combination of Kyocera Wireless Corp. and Kyocera Sanyo Telecommunications Inc., two wholly owned subsidiaries of Kyocera International Inc. The former was created when Kyocera purchased QUALCOMM Incorporated's consumer wireless phone business in 2000, while the latter was formed when Kyocera purchased the wireless phone business of Sanyo Electric Co., Ltd. in 2008. Based in San Diego, KCI leverages Japan's history of creating advanced consumer technologies around humanism and respect for the environment and blending them with a Western entrepreneurialism and style, resulting in a unique design language and a natural, user-friendly interface. For more information, please visit
http://www.kyocera-wireless.com
or follow the company on Facebook at
www.facebook.com/kyoceramobilephones
.
Kyocera Corporation (NYSE: KYO)(TOKYO:6971) (
http://global.kyocera.com/
), the parent and global headquarters of the Kyocera Group, was founded in 1959 as a producer of fine ceramics (also known as "advanced ceramics"). By combining these engineered materials with metals and plastics, and integrating them with other technologies, Kyocera has become a leading supplier of telecommunications equipment, copiers, printers, solar power generating systems, electronic components, semiconductor packages, cutting tools and industrial ceramics. During the year ended March 31, 2011, the company's net sales totaled 1.27 trillion yen (approx. USD 15.3 billion). The company is ranked #604 on Forbes magazine's 2011 "Global 2000" listing of the world's largest publicly traded companies.
*Depending on features and services available through the carrier.
Android is a trademark of Google Inc. Use of this trademark is subject to Google Permissions.
© 2011 Kyocera. All rights reserved. Kyocera is a registered trademark of Kyocera Corporation. Bluetooth mark is owned by the Bluetooth SIG Inc. and any use of such marks is under license. BREW is a registered trademark of QUALCOMM Inc. All other trademarks are the properties of their respective owners.
SOURCE Cricket Communications, Inc.
Email Cricket Communications