Prestress Supply Incorporated Leaps Ahead Of The Pack With A Brand New Website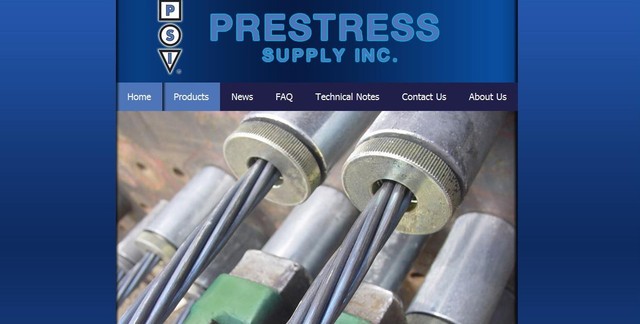 Prestress Supply Incorporated
, an industry leader for more than fifty years with innovations in tensioning systems for the producers of prestressed concrete, has moved into the new millennium stronger than ever with a brand new website that highlights all of their innovative products, including the Hercules Single Strand Tensioning Systems. The site is designed to be customer friendly, from the extensive catalog of tensioning systems and accessories, to the operation manuals available for download.
History
Founded in 1961 by former engineer Rex Hartup, Prestressed Supply Incorporated pioneered the design and application of prestressed concrete and forms for use in the construction industry worldwide. Recognizing the value of the then new technology, and its benefits to infrastructure construction, Rex and his wife Dorothy quickly saw their dreams come true as their company took the lead over only a handful of competitors.
Still going strong fifty years down the road,
Prestress Supply Incorporated
continues to lead the pack with innovations in forms, tensioning systems and the development of needed tools and accessories to aid in the production of prestress concrete. Now headed by their son, Bruce Hartup, their mission is still to provide the best they can offer to the industry, as well as making sure that every customer receives the best safety training possible in their use. Now that Rex's grandson Cameron has joined forces with his dad, Prestress Supply Incorporated now features a customer oriented website, designed entirely by the next generation, for the next generation in infrastructure construction.
About Prestress Supply Incorporated
The leader in prestressed concrete technology, Prestress Supply Incorporated has done it again by creating an educational and customer-friendly website. Not just a simple inventory list, this site provides everything you need to know about the Hercules Single Strand Tension Systems, its applications, and even advice on customizing their products for individual needs.
Email Prestress Supply Inc.