Wallpaper Retailer Graham & Brown Introduces New Premiere Art Décor Collection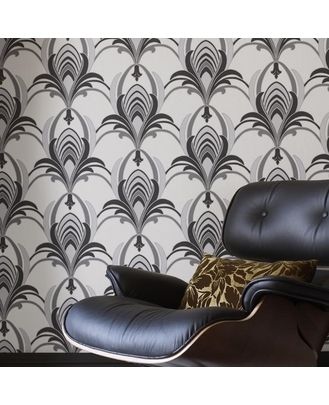 July 27, 2011 - Graham and Brown's
wallpaper
collections are known for their distinctive modern look, but their latest collection is all about vintage glamour.
This premiere
Art Décor collection
will impress the most distinctive of tastes and is influenced by 1920's glamour that will never go out of style. The extensive collection features an eclectic mix of styles, colours and textured finishes ranging from bold linear stripes to theatrical florals. It provides classic Hollywood glamour with glitter embellishments inspired by geometric designs.
The featured designs in this
modern wallpaper
collection personify luxury and glamour from 1920 to 2020 and are aptly named Rockafella, Glamour, Trapeze, Highbury, Novella, and Jazz.
"These wallpapers encompass a mix of eclectic styles," said David Klaus, direct retail sales manager. "Not to mention, each one is a heavyweight vinyl making them durable and long lasting."
Rockafella
exhibits sleek lines and smooth textures that reflect on the Art Deco architectural period but also brings in a bold stripe.
Glamour
is a lustrous floral and takes inspiration from the iconic Art Deco sunburst.
Trapeze
displays the geometric shapes present throughout the Art Deco period.
Jazz
shows opulence in its cubic design. The black
Novella
has a bold fan shape overlay with metallic embellishments. Finally, the geometric Highbury, which comes in
cream
,
black
, and
white
, uses glitter accents to draw attention to sweeping curves.
"Each hand-stitched embroidered pattern has been set into three-dimensional abstract shapes," said Klaus. "The addition of textures and glitter really add an injection of glamour to these new wallpapers."
Graham & Brown is a widely acclaimed wall decor company involved in offering creative decorating solutions for homes, offices, restaurants, hotels, etc. Headquartered in Blackburn, UK Graham & Brown has offices in countries all over the world. To learn more about Graham & Brown and its services, visit
http://www.grahambrown.com