BluPointe Announces Two New Features to its ShadowPointe™ BDR Product: Replication and Cross Replication to multiple Sites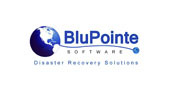 ATLANTA, Georgia, July 25, 2011 —
BluPointe DRS
has introduced two new features to its backup and disaster recovery
ShadowPointe™ BDR product,
offering BDR-to-BDR replication to two sites, as well as cross replication of multiple sites, providing instant (less than 60 seconds) restoration for one or more servers.
The benefits of a ShadowPointe BDR system, which provides local and off-site data backup allowing multiple servers to continuously back up to a device, include:
Replication of all data to two off-site facilities.
The ability to restore a server when disaster strikes in less than 60 seconds.
The ability to restore local or remote in under 60 seconds.
With these added features, ShadowPointe's BDR replication, MSPs, resellers, data center and back-up professionals can count on restoration of protected servers in less than one minute.
These new features provide the redundancy necessary to make any organization's
disaster recovery
program worry-free, as copies of data are replicated offsite to another ShadowPointe BDR device or data center of your choosing.
BluPointe's new features synchronize backups locally or to the network by integrating backup data to a redundant location for
archiving
and disaster recovery. Synchronizations can run on demand or be scheduled.
BluPointe's replication software automates delivery of backup image files to a local or remote ShadowPointe BDR. That means the entire image is replicated, giving the MSPs, resellers, and data center professionals multiple levels of redundancy at a location of their choice.
BluPointe's ShadowPointe BDR flexible backup solutions already utilize silent data corruption prevention technology, and are capable of supporting multiple servers including SharePointe, MS SQL, Exchange and others, providing significant improvement over the restore times of legacy backup processes that may be consuming an inordinate amount of time. Businesses and organizations serious about avoiding unplanned downtime are turning to ShadowPointe BDR strategies that integrate BluPointe's comprehensive
support system
.
BluPointe products meet SAS 70 Type II certification and HIPAA data management requirements. BluPointe product designs specifically define business processes that adhere to security best practices, maximize restrictions on access to confidential information, and maintain the industry's strictest information security.
The BluPointe DRS partner support and operations teams are expertly trained to provide the highest level of service while satisfying rigid data privacy requirements and offering 99.9-percent uptime accessibility.
BluPointe's ShadowPointe BDR
Bare Metal Image
support unit provides complete images of both a local and remote servers for unparalleled disaster recovery.
Each ShadowPointe BDR supports multiple servers and workstations, and utilizes silent data corruption prevention technology that works proactively to verify the integrity of all data. It also supports local file and folder backups and complete image backups for laptops and other non-critical systems.
"Knowing that any system downtime can be disastrous to businesses and organizations, we are constantly working to enhance BluPointe's ShadowPointe BDR features so users can operate worry-free," said Ron Roberts, BluPointe CEO. "Our systems are designed to maximize data security and information availability."
BluPointe's enhanced ShadowPointe BDR systems will enable customers to handle even the most demanding data protection requirements cost-effectively, with flexible pricing options to suit every organization's needs.
About BluPointe:
BluPointe™
is a complete network based data protection software for the
cloud
and
remote office/branch office (ROBO)
marketplace. BluPointe provides MSPs, Resellers, and their data center and back-up professionals with a data protection solution, coupling advanced features like easy installation, powerful administration and scalability. The result is cost effective data protection. As part of its corporate mission, BluPointe strives to be the leading provider of cloud-based ROBO backup and recovery software for the global marketplace.
For more information about BluPointe and its products, visit
www.blupointe.com
, or call 404.252.7626. To find out more about Blupointe
channel partners,
Managed Service Providers (MSPs) and resellers, Blupointe cloud based backup, or to become a BluPointe cloud provider, visit
reseller@blupointe.com
.