Ritter Communications and ZCorum Sign TruVizion Agreement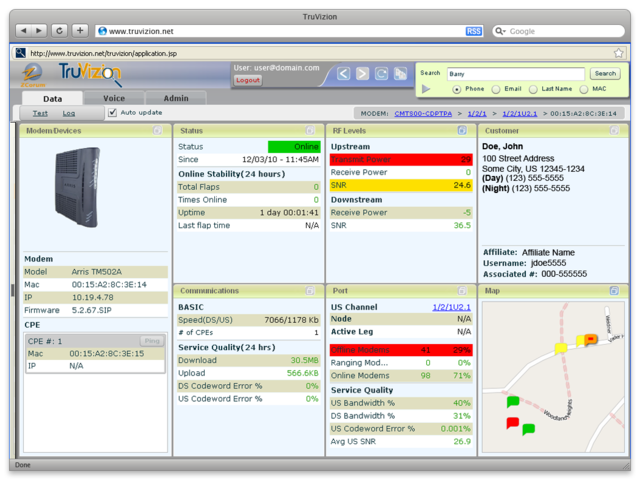 ZCorum and Ritter Communications announced today that they have completed a license agreement that provides Ritter Communications access to TruVizion, which is ZCorum's web-based application for cable modem management and diagnostics.
After showing key staff at Ritter a demo of
TruVizion
, ZCorum set up a trial of the application so they could try it out against their own cable network for 30 days. Cheryl Savage, Network Operations Manager at Ritter, said it didn't take long to see the benefits of the software. "TruVizion has already allowed our NOC to streamline monitoring and improve response times while creating a more centralized management interface for our cable network. With the use of TruVizion, we have a more intelligent network to better serve our customers."
According to Scott Helms, Vice President of Technology at ZCorum, cable providers are able to leverage the information in TruVizion for everything from troubleshooting individual end-user modem and EMTA issues to identifying opportunities to
proactively improve cable plant performance
. "Our development team designed the interface so that on a single screen a CSR can quickly see out-of-spec modem levels, as well as identify possible issues on the upstream channel that would point to multiple customers being affected. Plus, we provide reports on current RF levels and historical data in easy-to-read charts that allow a technician to view key readings on any modem or channel for up to 90 days in the past."
TruVizion also includes advanced mapping functions that allow the user to filter out some of the noise that you get in maps that are included with other diagnostic tools. "Our mapping features are far and away better than any other product out there", said Arthur Skinner, Vice President of Sales and Business Development at ZCorum. "For example, with a few clicks you can filter the modems that appear on a map so you're only seeing those devices that are off-line, or only those with a specific RF alert. You can even choose to display only modems on a particular node or active-leg."
According to Skinner, their developers are constantly adding new features to the application. In fact, two weeks ago
ZCorum announced a new mobile app
at NCTC called TechVizion that extends the power of TruVizion to anyone with an Android-based phone or iPhone. Skinner said technicians in the field can use TechVizion to view current and historical data for any modem from any location, without the need to drive around and connect up bulky test equipment.