Fikes Truck Line Delivers Aid to Joplin Citizens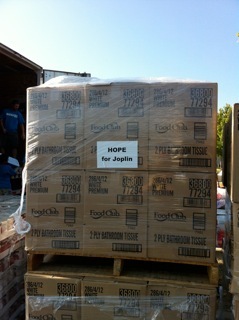 August 9, 2011 - Hope, Ark…On Monday, July 18, Gary Salisbury, President & CEO of Fikes Truck Line and Chairman of the Truckload Carriers Association (TCA), hauled a truckload of groceries to Joplin, Missouri, providing citizens with resources needed to recover from the tornado that devastated their community in May. He is scheduled to deliver a second truckload in the near future. Hope for Joplin, a local organization dedicated to supplying aid for Joplin and its citizens, surpassed their goal of $25,000 and raised over $40,000, all of which was donated by the people of Hope, Arkansas.
The funds allowed Hope for Joplin to purchase two truckloads of groceries, and Fikes Truck Line donated all transportation costs for the trip. In addition to bread, canned food, and other non-perishable items, Salisbury also delivered toiletries, baby food, diapers, and other living necessities.
Salisbury says that "it was an honor to facilitate help for those in need. In the trucking industry, we see the impact of natural disasters first-hand as we drive our nation's highways. This compels us to take action. It makes us realize how we are all connected and each depend on one another. "
In the past, Fikes has donated their time and resources to helping people in other natural disasters, including Hurricane Katrina victims in New Orleans, earthquake victims in Haiti, as well as to organizations such as The Angel Tree Program and Wreaths Across America and many others. Fikes plans to continue their charitable efforts in the future.
The Fikes family of companies includes Fikes Truck Line, FTL Logistics and FTL Custom Commodities. Together, these three brands offer multi-mode capacity from coast-to-coast. Fikes Truck Line is a flatbed specialist that operates exclusively through contracts with a fleet of highly qualified Independent Trucking Professionals; FTL Logistics is a brokerage operation that meets additional customer demand through a network of fleets and agents; FTL Custom Commodities is the newest sister company, specializing in dry van and refrigerated shipments. To learn more about the Fikes family of companies, visit the website at
www.fikes.com
.