Grand Baymen Website Gets Revamped and Experiences Immediate Impact Upon Launch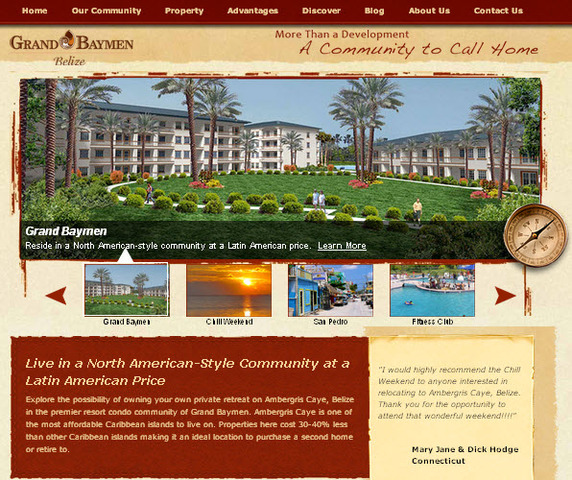 Award-winning Orlando Interactive Digital Agency Xcellimark recently launched a new website for ECI Development's Caribbean community, Grand Baymen:
www.grandbaymen.com
ECI's goals included rebranding Grand Baymen's property image online and generating leads from people interested in purchasing property on the Caribbean island of Ambergris Caye.
To accomplish these goals, the website features a new design, easier navigation, and enriched copy to draw visitors into the website and motivate them to discover what Grand Baymen is all about by booking a Chill Weekend.
"From the time the new website was launched, there was an immediate impact on Grand Baymen's online image and an increase in the quantity and quality of leads generated. The redesign has increased the conversion rate of people wanting more information on the Grand Baymen community and Ambergris Caye, Belize by over 83%. Ambergris Caye is consistently listed as one of the best islands in the world on which to retire. Therefore we wanted Grand Baymen's online image to match the beauty and the excitement of the island," said Scott Lambert, President of Xcellimark.
Xcellimark Vice President, Nancy Lambert, echoed his sentiments: "We're excited to see how the online re-branding and conversion optimization improves condo sales and rentals over time."
One of the major improvements to the website was the look and feel of the site. The overall theme of the website was designed with the cultural heritage of the island in mind. From the vibrant pictures and sandy background that reflects the laid-back beach community to specific design elements sprinkled throughout the site, the essence of the island and everything Ambergris Caye represents was carried throughout the website. In addition to the lovely design, the website is also chockfull of information on things to do on Ambergris Caye.
"The new and improved website is a good resource to educate people about the value of the property in Belize, activities in San Pedro, Ambergris Caye, the culture, community and things to do on and off the island," said Scott Lambert, President of Xcellimark.
Another way Xcellimark helped ECI rebrand Grand Baymen was by designing and implementing a search, social media and email marketing campaign. All the content on the website was optimized to help the site rank higher in the search engines for the desired key phrases, and social media profiles were set up on sites such as Twitter and Facebook to draw visitors and residents into an online community where they can interact with one another after their vacation is over.
"The Xcellimark staff has worked diligently with me to set-up and help implement a social media campaign that will continue to get our website's Google rankings up. The redesigned Grand Baymen website, in combination with the
new blog
, has produced significantly more leads than we received in the past," said Ann Kuffner, Vice President of Sales, Grand Baymen.
About Xcellimark
Xcellimark focuses on what really works in
custom website design
,
search marketing[/unofollow], [nofollow=http://www.xcellimark.com/online-articles.aspx]social media
,
email marketing
and
campaign optimization
to improve clients' online image & performance, increasing online leads and improving branding. For more information on how Xcellimark can help you improve your bottom line, contact Scott Lambert at 407-678-3062 ext. 210 or visit
www.xcellimark.com
About Grand Baymen
Grand Baymen on Ambergris Caye is the only new condominium development near San Pedro that offers buyers and investors a North American-style community at a Latin American price. The 1, 2 and 3 bedroom
condominium homes
provide tropical Caribbean flavor for a fraction of the cost of other Caribbean islands. The community also includes an
ocean-front resort
, restaurants, beach bar,
fitness club
, tennis courts and swimming pools, making it the property with the best amenities within
San Pedro
. For information on how to vacation, own or invest in a property at Grand Baymen, visit
www.grandbaymen.com