$2,000 New York Spa Getaway Announced in Hudson Valley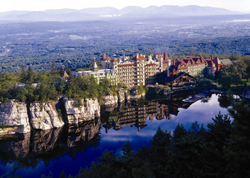 This fall, Chronogram magazine introduces Hudson Valley Daily (
www.hudsonvalleydaily.com
), which will provide deeply discounted prices from regional businesses.
The website is part of a new internet trend of collective buying, similar to sites like "Groupon" and "Living Social," where consumers take advantage of discounted goods and services when they buy as a group. "It's like a co-op," says Chronogram Publisher and Co-Founder Jason Stern, "only it's via the web and there are no membership fees."
To encourage membership for the new site, Chronogram has arranged for a sweepstakes worth $2,000 for two nights of food, accommodations, and spa treatments at the luxury resort The Mohonk Mountain House located in New Paltz, NY.
"The Mohonk Mountain House is a jewel of the Hudson Valley" said Stern of the historic Ulster county resort. "It's a perfect business with which to launch this project because it's world class and local." The shopping website is exclusively for businesses in the Hudson Valley in an effort to stimulate and maintain the local economy.
Local businesses that partner with Hudson Valley Daily will benefit by taking advantage of the wide reach that Chronogram has in the region. In exchange for offering discounts, businesses will attract new customers with wide exposure through Chronogram outlets such as the magazine, digital extensions-Chronogram.com, Facebook, Twitter, 8-Day Week e-newsletter-and custom publishing pieces. There is no upfront investment and businesses from all over the Hudson Valley are participating.
Hudson Valley Daily will offer at least one new deal every week between 50-90% off regular prices. For some of the offers, a pre-set number of buyers must be reached to become valid. The deals are delivered directly via email. In addition, there is an app available for the iPhones.
The deals typically have a time limit, so bargain-seekers are encouraged to spread the word to make sure the minimum number of buyers is reached. As soon as the discount has been validated, customers can purchase their item with a credit card, print out a voucher and take it to the business location for redemption. Plans are to move from weekly to daily deals by the Christmas shopping season.
Signing up for the Mohonk Mountain House spa sweepstakes automatically includes membership to Hudson Valley Daily. The deadline for entry in the sweepstakes is September 30th, 2011 Details about the contest can be found here:
http://www.hudsonvalleydaily.com/spa-sweepstakes/
Chronogram is a project of Luminary Publishing, begun in 1993 to stimulate and support the creative and cultural life of the Hudson Valley. Its core business is publishing unique and original magazines, directories, and web content under the Chronogram brand in the Hudson Valley region of New York, as well as creating content, publications, and marketing platforms for their roster of custom publishing clients.
Email Hudson Valley Daily