Laptop Skins from Unique Skins Prove to be a Necessity as Students Head Back to School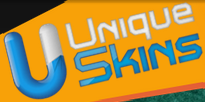 After paying thousands of dollars for a new laptop, it is important that students protect their most valuable learning tools with custom
laptop skins
from Michigan-based manufacturer, Unique Skins.
Laptops are an important learning tool for all students across the world. Being used in nearly every class, students cannot afford to damage these expensive devices.
Custom vinyl skins
are designed for almost every laptop. Offering not only protection, they also add personality with a unique and cool appearance.
Dedicated to serving the masses, Unique Skins has made sure that they provide
laptop skins
that accommodate any laptop. From
MacBook skins
to PC skins, there is something on the website for everybody. Customers can choose to customize laptop skins with their own images or use templates and designs that Unique Skins has provided.
"After investing in a new MacBook Pro for my graphic design classes, I wanted to be certain that my computer was safe," said James Anderson, Michigan State student. "Not only was I able to get a cool MacBook skin that offered protection, I was able to use my own graphics for the design!"
Visitors to Unique Skins are equipped with an online, interactive design tool that makes designing a custom skin easy. Unique Skins is the number one source for custom laptop skins.
Established in 2006, Unique Skins provides the best custom skins for cell phones, mp3 players, laptop, Bluetooth headsets, and gaming consoles. These skins not only protect your device from scratches, dents, and dings but also add a touch of glamour to any device. Fitting your gadgets perfectly and never leaving a sticky residue upon removal, Unique Skins is the ultimate way to personalize and protect your electronic devices.
http://www.uniqueskins.com