Leadli Ends Beta and Officially Launches Social Application Manager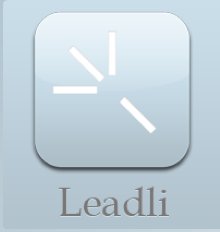 Mingle, LLC announced today the completion of its Beta phase and the official launch of Leadli (
http://www.leadli.com
), its Social Media Application Manager. Leadli enables companies to effortlessly create and manage social media applications that enable them to automatically syndicate content, increase customer loyalty or manage their employee referral program through Facebook, LinkedIn and Twitter.
"Leadli allows business owners or department managers to create a branded social media application without the added cost of development resources," stated Mike O'Brien, CEO of Mingle, LLC the parent company of Leadli.
"Social media is a productive marketing channel for us and Leadli has enabled us to extend our brand through Facebook applications," said Casey Gustus, CMO of Consumer United, "by having our best customers authorize our application it enables us to exponentially extend our reach to their network of friends and family."
Leadli creates a unique branded Facebook application that enables a company to post to the walls of authorized users once a customer authorizes a company, product or service. By posting to an authorized user's wall, companies gain access to their customer's social graph, which averages 132 friends on Facebook alone, and increases by an average of 261 when you add in Twitter and Linkedin.
"Since deploying Leadli.com we have experienced a 15 % – 20%, increase in foot traffic at our trade shows and adoption of new products is up significantly," added Micheal Addis, CEO Solartactical.com.
About Mingle, LLC
Mingle, LLC (
http://www.minglellc.com
) is a San Diego based technology firm that owns and operates software as a service web properties including Climber.com and Leadli.com. The company focuses on software solutions that act as a force multiplier for its clients. The company was founded in 2005.