The World's Most Lovable Pencil and His Pals Host a Unique Concept in Educational Websites for Kids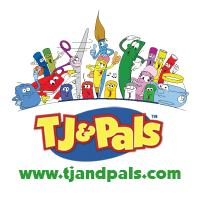 Baltimore, MD. (August 24, 2011) Umachaka Media Inc. headed by award winning film director Ashley Lazarus has introduced a brand new vision for children's websites. TJandPals.com is a children's website that utilizes verified educational principles to allow kids, ages 3 to 7, to learn without even realizing that they are learning. They have also developed the technology to give kids the ability to play on the internet without being exposed to child targetted advertisements or other influences.
The site is based on objects commonly found in knapsacks and pencil cases. They include an engaging and curious pencil, a ruler, dancing scissors, a group of singing paint brothers, a story telling paint brush and more. As someone who has worked for Mattel, Disney, and Sesame Street, Lazarus has unique insight into children's minds. When he designed the characters he was able to tap into this intuition and create characters and stories that keep children entranced and coming back for more.
"How often have we heard our kids say 'Mommy, I'm bored'? As a parent, and now as a grandparent, I have continually kept this in mind when designing and creating TJ & Pals." Ashley Lazarus, explains that the biggest impetus in creating the site was his own grandchildren. For many years Lazarus lived on a different continent than his grandkids and simple activities like reading a story face to face and assembling puzzles were an impossibility. Using his resources in the film and educational programming industries Lazarus culled a team of animators, writers, game designers and educators to create a site where grandparents would have the ability to play games with their grandchildren from across the world.
TJ & Pals
offers up captivating learn-as-you-play games, imaginative animated e-books, online creative tools, interactive video content, and a kid's "fitness gym". It provides entertaining "Watch and Learn Instructional Videos" so kids can figure out how to play the games and activities by themselves. This ultimately encourages kids to discover things on their own and builds their self esteem. The creators of TJ & Pals have also utilized a variety of proven educational principles when designing the games and activities on the site. Following kid's intuitive learning patterns, learning as you play, and repeating ideas and concepts throughout the games and songs are three examples of such principles.
One of the biggest difficulties with young children playing on the internet is the potential outside influences that may effect them. The technicians at Umachaka have come up with a solution to this problem: the SafePlay function. When your child is in the TJ & Pals SafePlay Playground, nobody can gain access to him. No advertisers. No other websites. No other people. Your child cannot even accidentally connect to another website because once your child is in SafePlay, TJ & Pals avoids all web browsers. It's just your child and his favorite pencil.
For all of those moms who have to travel long distances with their kids in the back seat of the car, or have to sit in the dentist's waiting room for 45 minutes listening to their children complain, Lazarus and his team are taking TJ and his Pals into the App world. TJ & Pals' technicians have designed down-loadable Apps for the iPad, iPhone and iPod touch, which can be found by searching for TJ &Pals in Apple's App Store. Android Apps are being developed and will be available at the Android Market. Also in development is a downloadable "Super App," TJ's world, that will not only control and help kids navigate all TJ & Pals Apps from one App, but will provide parents the information to create a safe and secure mobile environment for their children to play in without them being connected to the internet.
TJ's Club
, the membership based version of the site, with a modest monthly fee, will be rolling out August 22nd, 2011 and will be packed with unique benefits & features including Live Play which enables family and friends anywhere in the world to play with your kids one on one in real time. Grandmothers in England will be able to play with their five year old grandchildren in Pennsylvania over the internet or on their iPads. The paid version will also include TJ Connect, a safe, secure and private communications platform with instant messaging, text chat and video chat options - think Skype – but a parentally controlled safe version for little kids. The membership site will also provide an extensive and continually updated selection of activities, e-books, how to's and games, so that kids are continuously challenged and gratified. For one membership fee TJ's Club will provide four family members with their own "private worlds" – a fun space in which kids and grandparents can store their "favorites," watch the video they love, try that puzzle they couldn't quite do the day before, or share an e-book with a friend.
To celebrate the launch of their site and to attract the powerful Mom Market, the creators of TJ & Pals are launching the "TJ & Pals Just For Moms Sweepstakes" where one lucky mom will win a $250 shopping spree at Amazon.com and a one year membership to TJ's Club. The sweepstakes can be entered via their website
www.TJandPals.com/sweepstakes
or directly from their Facebook Page
http://www.facebook.com/TJandPals
Email Umachaka Media Inc.