Deadline Approaching for International Bacon Day Bacon Explosion Giveaway from BaconAddicts.com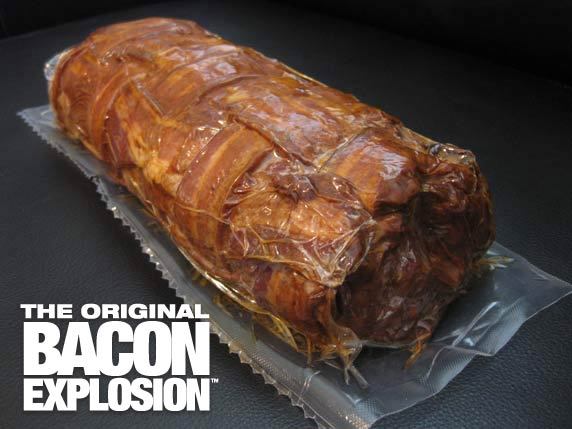 Hurry - there is still time to enter the
Bacon Addicts Bacon Day Giveaway
on September 3, 2011.
Announcing a great way for bacon lovers to celebrate International Bacon Day on September 3, 2011 - BaconAddicts.com, the Website dedicated to unique gourmet bacon food and novelty items, will be giving away five Bacon Explosions on International Bacon Day.
From now until midnight Eastern time on September 2, 2011, visitors to
http://www.BaconAddicts.com
can enter their name for the chance to win one of five
Bacon Explosions
. Bacon Explosions, which serve 12 people, have taken the country by storm, and have been featured throughout the media. Great for barbecues, tailgating, and entertaining, the Bacon Explosion is a bacon-stuffed, bacon-wrapped Italian sausage enhanced with a classic Kansas City style barbecue sauce and rub, then smoked low and slow in a special blend of oak and hickory wood.
About BaconAddicts.com:
BaconAddicts.com offers a vast selection of bacon itemsfrom gag gifts to gourmet food products, including delicious candy and snack items such as Bacon Chocolate, Bacon Brittle, Bacon Popcorn, Bacon Jerky, Bacon Coffee, Bacon Mayonnaise, Bacon Salt, Bacon Ketchup and Bacon Hot Sauce, plus a wide variety of popular non-edible Bacon Gifts, including Bacon Bandages, Bacon Air Fresheners, Bacon Socks, Bacon Wallets, Bacon Soap, Bacon Toothpaste, Bacon Candles, and much more. There are even kosher items!
The one thing Bacon Addicts does not sell is standard run-of-the-mill "bacon".
For more information, please visit
www.BaconAddicts.com
.
About International Bacon Day:
International Bacon Day or Bacon Day is celebrated on the Saturday before Labor Day (the first Monday of September). The day's celebrations typically include social gatherings during which participants create and consume dishes containing bacon, including bacon-themed breakfasts, lunches, dinners, desserts, and drinks. Bacon Day gatherings may also include the consumption of soy bacon or turkey bacon.
Bacon Day was conceived in 2004 by a group of CU Boulder (Colorado) graduate students.