MacBook Skins Protect Your New Laptop Just In Time for Back-To-School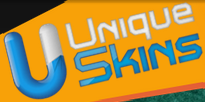 With the beginning of the school year right around the corner, Apple stores are swarming with students picking up their new MacBooks and MacBook Pros. Protecting these valuable learning tools is important which is why Unique Skins lets students customize and create their own protective
MacBook skin
that keeps their laptop safe and expresses their own unique taste and style.
Custom vinyl skins
for MacBooks provide superior protection from scrapes, cracks, and bumps. Whether students are moving back into the dorm room or just toting their MacBooks along with them to class, keeping their MacBook safe is of the utmost importance.
Unique Skins, a Michigan-based electronic skin manufacturer, has a custom skinning tool that allows its users to choose from premade designs or customize the look of their skin to fit their personality perfectly. To enhance the customization process, users can now upload their own graphic designs and personal photos to be shown on their
laptop skins
. Using the skin design tool is a fun experience in and of itself that keeps visitors coming back to the site, again and again.
"Next week I move to Chicago where I will begin my freshman year at DePaul University," said Emily Hippiera, a Belleville, IL resident. "After leaving the Apple store with my new MacBook, I had to make sure I didn't damage my new laptop. After all, I need this laptop to stay intact for the next 4 years. With Unique Skins, I was able to design a
MacBook skin
using my own pictures from back home so I don't get homesick!"
Unique Skins has become a popular provider for not only laptop skins, but skins for almost any electronic device, from phones and Bluetooth headsets to game consoles and E-readers. Constantly adding more products to their inventory, there are custom-fitting skins for just about everyone.
Established in 2006, Unique Skins provides the best custom skins for cell phones, mp3 players, laptop, Bluetooth headsets, and gaming consoles. These skins not only protect your device from scratches, dents, and dings but also add a touch of glamour to any device. Fitting your gadgets perfectly and never leaving a sticky residue upon removal, Unique Skins is the ultimate way to personalize and protect your electronic devices.
http://www.uniqueskins.com/