To-Jo Fresh Mushrooms invests in PTI Compliant Case Level Traceability System from SG Systems LLC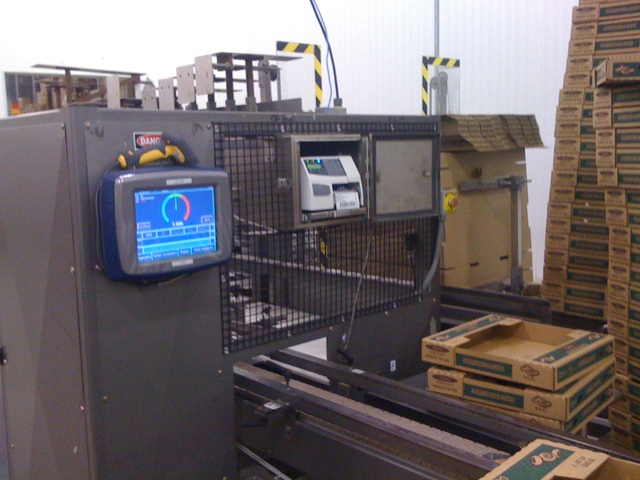 SG Systems are leading the way with their factory floor PTI Produce Traceability Initiative Solutions, this time with Avondale PA based To-Jo Fresh Mushrooms Inc.
To-Jo Mushrooms is a producer/grower of fresh mushrooms including whites, brown and specialty and a processor of value added mushroom products. Distribution to some 28 states of its fresh products is by a company-owned fleet. In addition, their 'value added' processed products are distributed nationally.
Four generation family owned company, To-Jo Mushrooms & its Affiliated Companies are recognized for their commitment to Quality, Innovation and Performance while maintaining a legacy of environmental stewardship. The Company recently was awarded best overall at the 2009 Pennsylvania Farm Show.
With recent food traceability scares affecting thousands of US produce companies (growers, repackaging and distribution based) - food companies are faced with a choice as to how to address the traceability legislation from the incoming raw ingredients of products all the way through their process to finished and repackaged goods. This can be an expensive problem to address if companies take the traditional and inadequate 'paper-trail' route.
The System, which consists of 8 'Vantage' Touch Screen Terminal, GTIN Label Printers & Barcode Readers enables incoming produce to be labeled with information relating to the Lot Number, Product, Sales Order, Country of Origin and GTIN information. As the products are shipped, the traceability is linked back to the incoming Lot Number right through the repackaging process.
To-Jo Mushrooms invests in Vantage PTI conforming Case Level Traceability SystemTo make the transition between their ERP / Accounts package simpler (Great Plains), an XML handshake between the 2 systems has been created to push purchase order details into the 'Vantage' system to eliminate the double handling of data.
To-Jo's VP of Operations, Mike Wood commented following a site visit to FreshPoint in Dallas where the system has been in operation for some time "SG Systems is the right company to invest in to meet our case labeling requirements to address the PTI. They have a understanding of the production floor environment and a consultative approach to problem solving. Both of which are very important to us when choosing a vendor to provide us with the tightest possible traceability in line with PTI. Their System is simple to use and we are very happy with the investment".
The 'Vantage' Solution
The 'Vantage' Traceability Solution is a combination of hardware and software modules which integrate with the companies ERP / Accounts System, providing seamless control to the production floor where fresh mushrooms, are packaged into new, sometimes 'customer specific' boxes. It starts by a download from Great Plains with the daily supplier purchase information. This download provides the 'Vantage' shop floor workstations with information relating to grower, country of origin, lot number, received date, product type, grade and available inventory quantity to 'deduct' from. The workstations take the form of touch screen 'Vantage' production line Terminals, barcode scanners and label printers which communicate through the companies Cat 5 Local Area Network. When the line supervisors select the relevant finished product or customer sales order from the 'Vantage' touch screen display, it details how many boxes of a particular product have been ordered. As each box is labeled (either through a low speed manual hand print and apply method, or through the companies 'Markem' high speed automatic print and apply systems. If no sales orders are present, the operators have the facility to 'create finished stock' to maximize the efficiency of the production run. This installation is the first phase providing excellent case level traceability. Phase 2 will involve production line portion control Systems to monitor operator productivity and increase weight consistency of products. Mike Wood commented, "To-Jo is committed to staying on the forefront of produce traceability and this system will allow us to do so."
To-Jo Mushrooms invests in Vantage PTI conforming Case Level Traceability SystemThe Tightest Possible Production Control & Traceability
Each label is unique and fully traceable. The label displays information such as the Lot Number, Country of Origin Code, Customer Name, Expiration and Pack Date & Customer Details. As each label is generated, the Vantage System is adding product to the customer order to enable the Management Team to have real time production information based on actual throughput.
Being based on the well proven 'Vantage' traceability system, the reporting package has the ability to pinpoint which Lot Numbers have been delivered to which customers and when – all in real time. Simply enter the Lot Number into the PC and it will generate an 'ingredient dispatch' report (detailing which customers have been supplied with the ingredient) giving emergency contact details in the event of a product recall.
The reports package also enables visibility of production throughput, and production yield whilst generating no additional workload for the site staff.
Mike Wood comments on the 'Vantage' System "To ensure the highest level of food safety and compliance with PTI for ourselves and our customers, we needed a traceability system which collected its data from real events on the production floor. SG Systems have provided us with a product which we have taken from an initial discussion to a working solution within a rapid timeframe. Above all, the system is simple to use, easy to modify and generally popular with my team."