Limited Edition printed Metrodome roof pieces to honor the anniversaries of 1987 and 1991 Minnesota Twins World Series Champions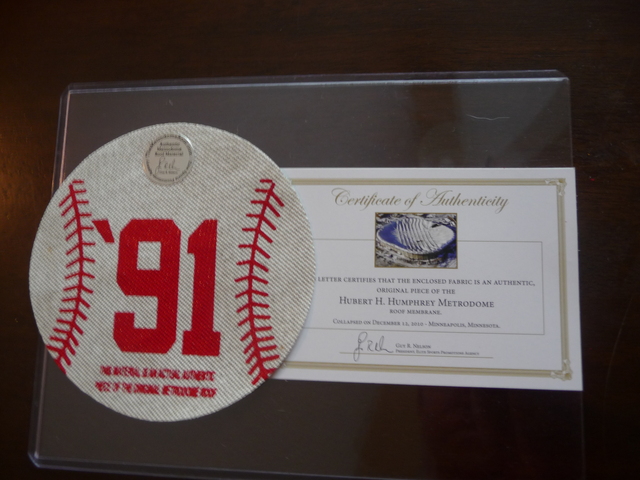 The new roof of the Metrodome was finally completed in July of 2011 at a cost of $20+ million. The collapse of the old Metrodome roof happened on December 12th, 2010. The Metrodome roof collapse video was one of the top 5 most watched sports videos in the first part of 2011. In fact, over 10 million views have been recorded on various websites including this site on Youtube recorded over 5,200,000 alone and can be seen here at
www.youtube.com/watch?v=AAyLX2hY7E0
.
Now that the roof has been torn down, there has been a strong national interest in capturing a piece of the old Metrodome roof and it is highly valued as a historic piece of Minnesota sports history. Thousands have gone in search of a piece of the roof to treasure in their sports bar, sports room, man caves and offices or to buy as that unique and special gift for their favorite Minnesota Twins, Minnesota Vikings or Minnesota Gophers fan.
A highly publicized and anticipated open house was held at the Metrodome for fans to see the new Metrodome roof and new turf and were given full access throughout the facility. A promotion was held for the first 3,000 to receive a free sample of the Metrodome roof. Thousands showed up from around the 4 state region and not everyone was lucky enough to receive a piece of the historic roof that has housed the 1987 Minnesota Twins World Champions, 1991 Minnesota Twins World Champions, 1992 Super Bowl, 1985 All Star Game, 1992 and 2001 NCAA Final Four,Cal Ripken's, Eddie Murray and Dave Windfield's 3,000th hit, Adrian Peterson's NFL single game rushing record and more.
Probably the two most memorable and world famous sporting events played at the Metrodome were the 1987 World Series and the 1991 World Series.
According to MLB.com,The 1987 World Series between the Twins and Cardinals brought a whole new meaning to the term "home-field advantage." It marked the first time that the home team won all of its games in a series. It was also the first time that World Series games were played indoors, at Minnesota's Metrodome. Scores, highlights and videos can be seen on
MLB.com
.
Also, according to ESPN.com, one of the greatest homeruns ever hit in baseball history was hit in the Metrodome in 1991. Kirby Pucket hit #11 on ESPN's Greatest Homeruns of All Time list, when he hit the game winner in the 11th inning in game 6 of the 1991 World Series. See list at
http://espn.go.com/page2/s/greatesthomerunslist.html
TheMetrodomeRoof.com has acquired a significant portion of the actual collapsed Metrodome roof material and has produced memorabilia such as Limited Edition printed shapes of Minnesota, pennants, footballs and baseballs to honor the 1987 and 1991 Minnesota Twins World Champions and Minnesota Vikings. Orders can now be taken at
www.TheMetrodomeRoof.com
.
Many events, activities, autograph signings and other Twins Worlds Series merchandise can be found at
www.twinsbaseball.com
.
The new product line was just launched Minnesota State Fair this year at the Grandstand and offered as 'Dome on a Stick'. Guy Nelson from TheMetrodomeRoof.com say that the Minnesota State fair is a great location and timing to launch a new product line. Its a true Minnesota tradition here at the fair and the largest Minnesota get together of the year and every Twins and Vikings fan will be here. See
www.mnstatefair.org
. The Metrodome roof collectibles can also be found at the three anchor malls in the Twin Cities area including the Mall of America, Ridgedale and Rosedale.
Radio stations, television stations and newspapers have all taken a keen interest in Guy Nelson's new venture with the Metrodome memorabilia. Guy state's, " It's exciting and hard to believe that it's been launched to a national phenomenon with stories written in CBS Money Watch, The Wall Street Journal and been on over 80 radio stations and a dozen other newspapers".
Guy also says the continued interest in the collapse of the old roof, the erecting of the new roof and possibility of building a new Vikings stadium has kept his company and product in the forefront of the news. Local media outlets such as the Minneapolis Star and Tribune, St Paul Pioneer Press, NBC Kare 11, KSTP Channel 5, Fox News and various other news sources have been interested in following the new products and developments from TheMetrodomeRoof.com
TheMetrodomeRoof.com is based in St. Paul, MN and launched its first products in the Summer of 2011 and now continues to grow with new products and innovations for Minnesota sports history and memorabilia made from authentic Metrodome roof material.
Email TheMetrodomeRoof.com