Hygloss Products and Hertz Furniture Launch Century of Dedication Sweepstakes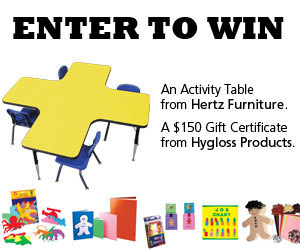 Wallington, NJ (September 9, 2011) - Hygloss Products, which has been providing craft and teaching supplies for over 60 years, has teamed up with school furniture supplier Hertz Furniture, which is celebrating its 45th anniversary this year, to launch the "Century of Dedication Sweepstakes." Between them, the two companies have displayed their dedication to education for over 100 years. They want to share this monumental accomplishment by giving their customers a reason to celebrate.
Teachers, parents and retailers alike all see the creative potential of Hygloss craft and educational supplies, which help young minds grow and blossom. In addition to their commitment to high quality products, Hygloss Products also boasts courteous and helpful customer service that will accommodate the customer's individual needs.
"Century of Dedication Sweepstakes" Grand Prize
The grand prize of the "Century of Dedication Sweepstakes" includes a $150 gift certificate from Hygloss Products and a preschool activity table from Hertz Furniture. Hygloss Products' gift certificate can be used on any of their arts and crafts, scrapbooking, or
teaching supplies
. Whether you need science kits, flash cards, bulletin board decorations, math counters, or office supplies, $150 will get you far toward stocking your classroom with everything you need.
Hertz Furniture's A+ Collaboration Activity Table has a unique plus-sign shape that allows children to sit facing each other for collaborative work or to have individual space when working independently. The table has a stain- and scratch-resistant surface and adjustable legs to assure the perfect height in any preschool classroom. Enter the "Century of Dedication Sweepstakes" via the Hygloss Products
Facebook page
. The contest ends October 5, 2011. The winner will be selected in a drawing and will be notified within 10 business days after the end of the sweepstakes.
About Hygloss Products
Since 1950, Hygloss Products has offered innovative arts and crafts supplies to ignite creativity in children and adults. Teachers, parents and crafters alike enjoy the superior quality of Hygloss craft supplies, specialty paper and classroom essentials. Children's minds are ever expanding, and that's why the Hygloss product line is constantly being updated.
All Hygloss Products come with a money back satisfaction guarantee because we're not happy until the customer is happy. Enjoy a fabulous crafting experience with unique and exclusive supplies from
Hygloss Products
.