Muve Music Growth Accelerates; Doubling Subscriber Base Again in Record Time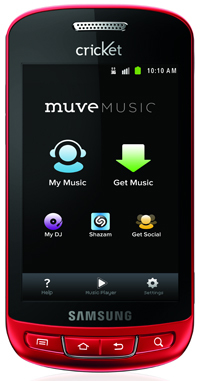 SAN DIEGO, Sept. 8, 2011 — Cricket Communications, Inc., a leading provider of innovative and value-driven wireless services and a wholly-owned subsidiary of Leap Wireless International, Inc. (NASDAQ: LEAP), today announced that Muve Music, the first unlimited music service to be included as part of a wireless rate plan, has surpassed the 200,000 customer level. It marks the second time since Muve Music launched that the service has doubled its subscriber base — this time in less than 60 days. The company today also unveiled its first Muve Music enabled Android device, the Samsung Vitality.
"With more than 200,000 customers in just a few short months, it's clear that Muve Music's subscriber growth is ramping up in ways we've never seen in the digital music space," said Doug Hutcheson, president and chief executive officer for Cricket Communications. "We believe Muve Music on Android will further accelerate our growth and help Cricket appeal to music lovers everywhere."
Impressive Subscriber Metrics
Cricket's Muve Music customers are deeply engaged with the service. The Muve Music customer on average spends two to three hours a day listening to music on their
Muve-enabled phone
. In the month of July alone, 153 million song plays took place within the Muve Music service and, on average, Muve customers download 400 songs per month. Since the initial Muve Music launch in January, customers have downloaded more than 150 million songs over Cricket's high-quality, 3G network.
In the month of July, Muve Music's usage represented 70 percent of all tethered streams for the top 10,000 songs tracked in the mobile applications category, which includes services such as Rhapsody, Napster, Spotify and MOG.
Cricket's Muve Music Now Launched On Android
Optimized for a superior music experience, the Samsung Vitality is Cricket's first Muve Music enabled Android™
smartphone
. Operating on the Android 2.3 Gingerbread platform powered by an 800MHz processor, the fast and affordable Samsung Vitality is easy to use and features Muve Music as well as the Android Market™, Gmail™, Google Maps™ and Google Talk™. The Samsung Vitality comes preloaded with a special Muve Music 4GB SanDisk flash memory card which holds up to 3,000 songs and has 1GB of storage set aside for other multimedia content such as photos and videos. An 8GB Muve Music memory card is available for purchase and holds up to 6,000 songs from the Muve Music service.
Customers who choose a Muve Music Android will pay $65 per month for their unlimited wireless rate plan at Cricket stores and dealers. The Unlimited Muve Android rate plan includes: full-song downloads, ringtones, ringback tones, as well as nationwide calling, text, picture and video messaging, email and data back-up.
How to Get Muve Music
Muve Music is available at Cricket company-owned stores and at
www.mycricket.com
, as well as through select partner retail outlets. The Cricket Muve Music wireless unlimited plan is $65 per month on the Samsung Vitality
Android phone
and $55 per month on the Samsung Suede high-end feature
phone
. The Samsung Vitality has an M.S.R.P. of $219.99, but is available now with a $20 instant rebate. The Samsung Suede has an M.S.R.P. of $199.99, however prices may vary by market and by promotional programs. Additional accessories are available for purchase including premium headphones, an audio jack and Bluetooth adapter to connect to home and car stereos, either wired or wirelessly.
For more information about Muve Music, visit
www.muvemusic.com
, and for Cricket's dynamic device lineup, visit
www.mycricket.com
. To follow Cricket's latest news and updates online go to Facebook at
www.facebook.com/cricketwireless
or Twitter at
twitter.com/cricketnation
.
About Cricket
Cricket is the pioneer of simple and affordable unlimited wireless services with no long-term commitments or credit checks required serving approximately 5.7 million customers in 35 states and the District of Columbia. Cricket offers wireless voice and broadband Internet services over the latest technology, high-quality, all-digital 3G CDMA2000 1X and 1xEV-DO wireless network. Cricket's nationwide wireless voice service plans include unlimited anytime minutes, unlimited U.S. long distance, unlimited text and picture messaging, unlimited text to Mexico, unlimited Mobile Web, unlimited directory assistance, as well as a variety of calling features and feature-rich mobile applications such as popular games, ringtones and wallpapers. For more information on Cricket, visit
www.mycricket.com
. Cricket is offered by Leap Wireless International, Inc., headquartered in San Diego, Calif. For more information on Leap, visit
www.leapwireless.com
.
Android is a trademark of Google Inc. Use of this trademark is subject to Google Permissions
SOURCE Cricket Communications, Inc.
Email Cricket Communications