Edmonton IT Company AwareBase Connecting AIDS Orphaned Kenyan Students to the World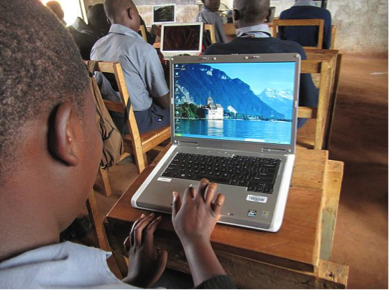 Edmonton, Alberta, September 19, 2011 – AwareBase, an
Edmonton IT consulting
and solutions company, and One Child's Village, an Edmonton charity, today announced the successful deployment of laptops to a school for Kenyan orphans.
According to Todd Lorentz, Co-Managing Director of One Child's Village: "The donation by AwareBase of 8 laptop computers has made a huge impact on the lives of 300 children who otherwise would never have had access to the basic technology that we take for granted here in Canada."
In addition to the laptops, One Child's Village has recently added a qualified computer teacher, Dennis Otieno, to the school. When asked about the impact that these computers would have on the children and the school, Dennis responded: "…computers…enable the accountability, integrity and transparency in the Accounting System of the institution…[and] creates opportunities both to the children and the entire community that surrounds the school. It has been my pleasure working with Todd and his donor network, to make children have a smile."
The children will receive ongoing training in computer literacy, document creation, video and image editing, educational programming, and much more. Todd has plans to further enhance the school's Internet capability, and thus the capacity for educational programming, through the introduction of a cost efficient wireless Internet hub that can network entire classrooms together for online learning.
Steven Gentles, AwareBase President & CEO, described his Edmonton IT company's introduction to the project: "Todd approached us back in the spring to see if there was anything we could do to help. As it turned out, we had some surplus PCs that we were more than happy to donate. Our IT professionals got behind the project, prepared them for shipment and delivered them to Todd for eventual transportation to Africa. It has been very gratifying for us all to take part in this initiative and to see the kids and the school putting these laptops to good use."
In recent years, Kenya has been ravaged by HIV/AIDS which has orphaned more than one million children. One Child's Village is making the difference to over three hundred of these orphans in Bumala providing them with food, shelter and access to an education – which now includes basic and advanced computer skills training. Once the wireless network is established, the students will have access to online learning opportunities from around the globe.
About AwareBase
AwareBase customers manage large volumes of documents and electronic files, execute their work using project management best practices and typically operate in regulated environments that demand impeccable record keeping. AwareBase products and services allow its global customers to organize, manage, distribute, search, securely access and control their data and information yielding significant productivity improvements and absolute corporate knowledge retention.
AwareBase Tina is a world class software solution used by our engineering customers to manage product, project and asset data and information including:
engineering document management
as well as hierarchies such as Bill-Of-Material (BOM), Work Breakdown Structures (WBS) and Illustrated Parts Catalogue (IPC) information. Tina's global
change management
and workflow features ensure that its customers are always aware of where their data and information was, is, will be and may be.
About One Child's Village
One Child's Village is a non-governmental, non-religious, not-for-profit society of volunteers. We support the Millennium Development Goals established by the United Nations and seek to implement solutions that take into account these important principles. We are not aligned with any political, religious or tribal organization and seek to cooperate with individuals, businesses and organizations from all cultural, religious and ethnic backgrounds in our efforts to bring relief and hope to those in need.
One Child's Village's emphasis is on investing in today's children – the leaders of tomorrow – through the development and support of basic needs, security, community and character-building education. This includes not only guidance for them but their parents and communities as well, with particular emphasis on the support of orphans who have been affected or infected by HIV/AIDS.
For more information, contact:
AwareBase:
Steven Gentles
President & CEO
steven.gentles@awarebase.net
Tel: 780.784.9020 x234
Website:
www.awarebase.net
One Child's Village:
Todd Lorentz
Co-Managing Director
tlorentz@telusplanet.net
Tel: 780.433.3342
Website:
www.onechildsvillage.org