Wallpaper Company Graham & Brown Launch New Collection by Hemingway Design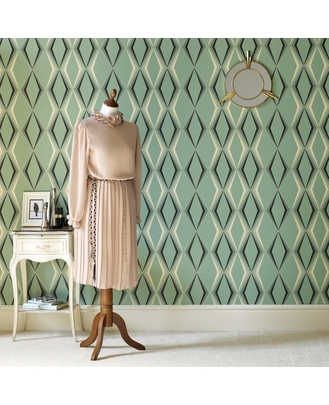 MONROE TOWNSHIP, NJ-Designer
wallpaper
and wall decoration company Graham & Brown released an exclusive collection by famed Hemingway Design.
Vintage
, described as a capsule wallpaper collection celebrating great British creativity, contains four designs representing four decades.
The new collection was designed as part of Hemingway's award winning Vintage Festival, which was held at London's Southbank Centre. The range represents four unique periods in time, including the glittering 1930s, the chic 1950s, the free-flowing 1960s, and the wildly glamorous 1970s. These retro inspired patterns were a logical next step for Hemingway, whose relationship with Graham & Brown spans over a decade.
"When we sold our print led fashion label, it was a logical progression to take our strong print and visual sensibilities into wallpaper," said Wayne Hemingway, co-founder of Hemingway Design. "How could we not work with Graham & Brown? It is [their] commitment to innovation that creates such a synergy with Hemingway Design."
Deco Diamond, inspired by the glamour of the 1930s, takes its cue from the decade's emerald onyx ornaments, enamel kitchenware and Wayne Hemingway's collection of 78 record covers. For mid-century modern design fans, Hemingway created Grid. This fun and funky retro print was inspired by the classic British caff table tops of the era. Loopylines is free flowing and fancy free, celebrating the modernist movement of the swinging 60s. Finally, Do the Stretch embraces the glam rock and science fiction mania that was omnipresent in the 70s showcasing graphic design style in an earthy color palette.
"When [Hemingway Design] approached us to work on a collection inspired by the Vintage Festival, we were delighted," said Donna Riley, brand manager at Graham & Brown. "These designs give a nod to the past and wink to the future."
Graham & Brown is a widely acclaimed
designer wallpaper
company involved in offering creative decorating solutions for homes, offices, restaurants, hotels, etc. Headquartered in Blackburn, UK Graham & Brown has offices in countries all over the world. To learn more about Graham & Brown and its services, visit
http://www.grahambrown.com