WallPops Takes Center Stage on "Made in America" Series on "ABC World News with Diane Sawyer"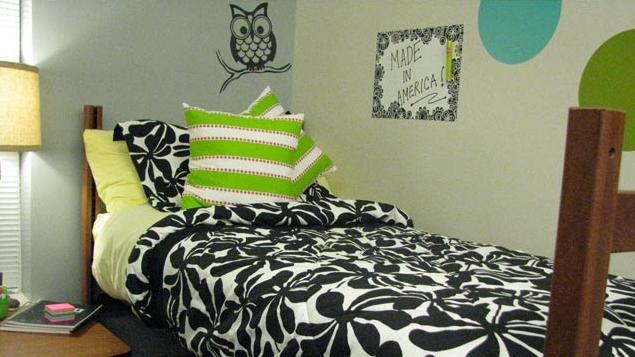 09.28.2011– RANDOLPH, Mass. – WallPops, the most coordinated, on-trend line of wall art on the market has yet another feather in its cap. It was center stage in this week's "ABC World News with Diane Sawyer" "Made in America" series on dorm room decorating. Monica Resendiz, a student at Southern Methodist University in Dallas, tweeted to the World News team that she could not find any products for her dorm room that were made in America and asked them for help. Resendiz and World News set out to find American-made products and came upon WallPops in the campus store. Resendez dressed her dorm room walls easily and affordably with the WallPops "Give a Hoot" owl and "Dandelions" Small Wall Art Kit designs, some colorful Dots and a Bali-themed Dry Erase Board. Not surprisingly, the board read, "Made in America."
"Our customers deserve the very best and we are proud to offer high-quality, American-made wall art," said Paula Berberian,Creative Services Manager for Brewster Home Fashions, manufacturers of WallPops.
The three segments devoted to dorm rooms of World News's ongoing "Made in America" series proposed that if the estimated 20 million college students in this country each purchased more than $800 worth of American-made products, it would result in $46 billion in spending and create 500,000 American jobs. Needless to say, the segments, which were each viewed by more than 7 million people, were very well received by the public and have added to the national conversation on the Made in America topic.
WallPops was also featured in late August on NBC's "Today" in a "dorm room showdown" decorating contest where designers were tasked to decorate dorm rooms at Hofstra University in Hempstead, N.Y, for under $300. Designer and Better Homes & Gardens Contributing Editor Elaine Griffin used WallPops in bold stripes on a freshman girl's dorm room walls to great effect.
WallPops collections are available at select retailers nationwide and online at
www.wallpops.com.
WallPops Small Wall Art Kits are approximately $15.99 each; WallPops Dry Erase Message Boards are approximately $12.99 each and all WallPops Dots, Blox and Stripes are approximately $12.99 each. Became a fan at:
http://www.facebook.com/wallpopsdecals
and follow them at:
twitter.com/WallPopswallart
.
WallPops by Brewster Home Fashions is the premier line of peel-and-stick wall art on the market today with on-trend design and total coordination possibilities. Headquartered in Randolph, Mass., Brewster Home Fashions is one of the oldest independent, family-owned wallcovering companies in the U.S. that now spans five generations. Since 1954, Brewster Home Fashions has been a prominent manufacturer and distributor of fine wallpapers and home decor products for residential and commercial markets globally. A category leader, the company offers a range of brands and price points that provide more than 10,000 wall and window décor solutions.
Media can also visit
www.louhammond.com
for latest press releases and images. Follow on Twitter at LouHammondPR or find us on Facebook.
Email Lou Hammond & Associates