Growing Up Fast: Howard County Electronics Recycler Recognized in National Business Growth Ranking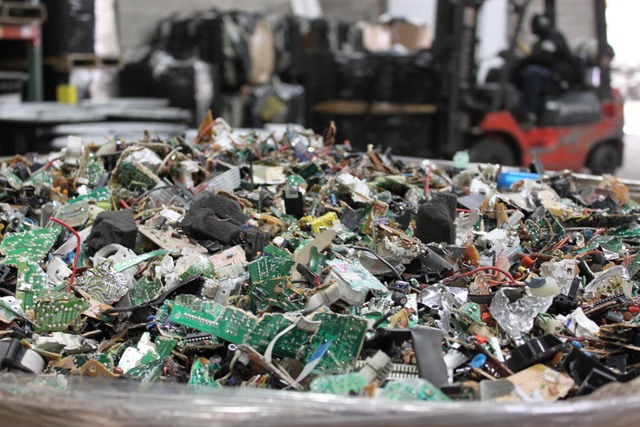 Up and coming Howard County business, E-Structors, Inc., has been recognized as one of America's fastest growing organizations.
E-Structors, Inc., an electronics recycling facility in Elkridge, MD, was pleased to be included in the top 30% of this year's Inc. 5000 list. The list, sponsored by the Inc. Magazine, displays a national ranking of the nation's 5000 fastest growing businesses by percent of revenue growth over the previous three years. The Inc. 5000 list, which is on its fifth publication, also measures job creation and ranks companies by their individual industries.
"Now, more than ever, we depend on Inc. 500/5000 companies to spur innovation, provide jobs, and drive the economy forward. Growth companies, not large corporations, are where the action is," says Inc. magazine Editor Jane Berentson.
Being ranked in the top 30% was a tremendous honor for this young environmental services and information destruction company.
"We have been tremendously lucky and blessed over the past eight years," said Julie Keough, CEO and Co-Founder of E-Structors. "We never imagined that this facility and our operation would have grown so quickly in such a short period of time."
E-Structors, was founded in 2003 as one of the first operations in the country to provide their clients with environmentally compliant electronics recycling, document shredding, and information destruction services in a single location. After they relocated to a larger facility in 2008, their processing capabilities and employment soared, increasing their workforce by 100 individuals over the next 3 years.
"There were many people who called us crazy at the start," said Mike Keough, E-Structors President and Co-Founder. "Now those same people are trying to catch-up to us."
When the business began, the Keoughs opted to invest in several pieces of experimental processing equipment new to the electronics recycling industry. Using technology borrowed from the paper shredding industry they designed a unique electronics shredder, making them the first company in the Mid-Atlantic to have this capability. Being able to use an electronics shredder in conjunction with a hand dismantling line, provides for the better processing of end-of-life electronics. It also provides clients with assurance that their sensitive information is destroyed.
E-Structors received two additional honors on the Inc. 5000 list, as the 29th fastest growing business in the Baltimore area and the 18th fastest growing Environmental Services Business in America.
"Environmentalism is at the foundation of our operations," said Julie. "Last year we recycled over 22 million lbs. of materials, and we consistently work to improve our processes to increase efficiency and minimize our environmental impact."
In 2008 E-Structors became the first certified recycler in the Mid-Atlantic, earning both their R2 and ISO 14001:2004 certification. They are currently the only certified recycler operating in the state of Maryland.
"This entire experience has been more then we could have ever imagined," said Mike. "It's truly an honor to be ranked on this list."