Cricket's Muve Music is CTIA 2011 HOT FOR THE HOLIDAYS AWARDS FINALIST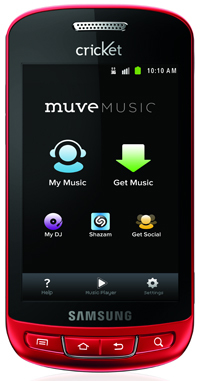 SAN DIEGO, Oct. 10, 2011 — Cricket Communications, Inc., a leading provider of innovative and value-driven wireless services and a wholly-owned subsidiary of Leap Wireless International, Inc. (NASDAQ: LEAP) announced today that Cricket's Muve Music is a finalist in the Music Lover category in the CTIA 2011 Hot for the Holidays Awards competition. Voted on by a panel of mobile consumer electronics media and analysts, Muve Music was viewed as one of the most
innovative, functional, creative and cutting-edge mobile consumer products
or applications for the holiday season. Winners will be announced at CTIA ENTERPRISE & APPLICATIONS™ 2011, which takes place at the San Diego Convention Center on October 11-13.
Muve Music is the first music experience designed specifically for the
mobile phone
; there are no download fees or monthly music subscriptions – it's all included. Cricket is the first U.S. wireless carrier to offer consumers unlimited music as part of a wireless rate plan. Cricket customers across the country can now purchase wireless service that includes unlimited nationwide talk, text, web and unlimited music (full track downloads, ringtones and ringback tones) for $65 per month with an
Android device
or $55 per month with a feature phone.
CTIA 2011 Hot for the Holidays Awards winners will be announced at a live ceremony from the CTIA ENTERPRISE & APPLICATIONS exhibit floor (Booth 145) on Wednesday, October 12 at 2:00 p.m. PDT. One winner will be selected from each of the 10 categories. This year's judges included media and industry analysts from: BNET, Current Analysis, Electronista, FierceMobileHealthCare, IDC, Lab Reviews, Light Reading, Mashable, PhoneDog, PhoneScoop, San Jose Fitness Examiner, SplatF, The New York Times, Wired and Wireless Week. Awards submissions will be prominently displayed in a special showcase on the exhibit floor at the CTIA show in October.
In addition to the 10 awards categories, consumers have an opportunity to vote for their favorite by choosing the "CTIA 2011 Hottest Web Pick" at
www.ctiashows.com/holidays
. Online voting closes on Monday, October 10, 2011 at 5:00 p.m. PDT. Additionally, show attendees will be able to view all submissions onsite within the Hot for the Holidays Showcase., Booth 145. The entry that earns the most text votes onsite will win the title of "CTIA 2011 Hottest in Show."
About Cricket
Cricket is the pioneer of simple and affordable unlimited wireless services with no long-term commitments or credit checks required serving approximately 5.7 million customers. Cricket products are available nationwide. Cricket offers wireless voice and broadband Internet services over the latest technology, high-quality, all-digital 3G CDMA2000 1X and 1xEV-DO wireless network. Cricket's nationwide wireless voice service plans include unlimited anytime minutes, unlimited U.S. long distance, unlimited text and picture messaging, unlimited text to Mexico, unlimited Mobile Web, unlimited directory assistance, as well as a variety of calling features and feature-rich mobile applications such as popular games, ringtones and wallpapers. For more information on Cricket, visit
www.mycricket.com.
Cricket is offered by Leap Wireless International, Inc., headquartered in San Diego, Calif. For more information on Leap, visit
www.leapwireless.com
.
About CTIA Shows
CTIA Shows bring together all industries advanced by wireless technology for intense business, learning and networking. CTIA ENTERPRISE & APPLICATIONS™ takes place October 11-13, 2011 at the San Diego Convention Center in San Diego, Calif. International CTIA WIRELESS® takes place May 8-10, 2012 at the Ernest N. Morial Convention Center in New Orleans, La. Visit
www.ctiashows.com
.
SOURCE Cricket Communications, Inc.
Email Cricket Communications