New Wallpaper Collection by Marcel Wanders Released by Graham & Brown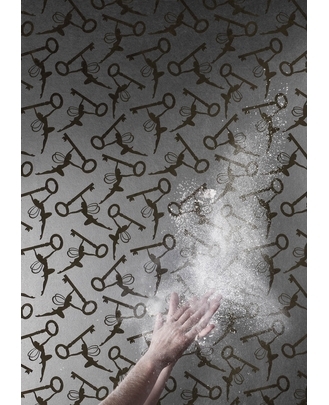 October 20, 2011 - International
wallpaper
manufacturer and retailer Graham & Brown has once again teamed with renowned product and interior designer Marcel Wanders to wisp away customers on a mystical interior design escapade with an intriguing new fall collection.
Celebrating polarity and the art of observation, the
Whispers
collection features four new wallpaper designs, with soft velvet whispers sparkling upon rough textured wallpaper, offering multiple sensations to the touch and eye. The four unique design's enigmatic details paired with rich, dark color selections balance and enhance the Whisper collection's sophisticated allure.
Key Muses
is delivered by fairies on the wind; the keys encompass you. Murmurs, sighs and whispers imbue the air; they speak softly to avoid being overheard. Though each is a very small, her secrets are tremendous. Any key is yours. Will it unlock your dreams? Your Love? Your Heart?
Forest Muses
is transient and daring, with fairies camouflaged to the naked eye. It is but the soft whispers they breathe that beckon you forward. Darkness breaks and in a moment the fairies emerge, dancing through the damask forest. "Closer, Closer", they whisper, "may we dance for you?"
Braille Chester
encompasses hidden messages escaping from a black universe. A secret language chronicles stories that can only be discerned by searching eyes. Gaze deeply and you will decipher inviting whispers.
Rose Beds
will uncover the vast beyond. What was once cloaked in darkness gently illuminates to reveal a secret rose garden. Smooth and soft as velvet, the roses sparkle in the moonlight. With each twinkle of light, a whisper of love is sent to the stars.
The Whispers collection is
designer wallpaper
for intimate home spaces, such as a boudoir or private bar. Decorate your home with this unique design and be invited to live your wildest dreams.
The release of Whispers embodies the style and lavishness to which Graham & Brown customers are accustomed. The wallpaper giant is best known for timeless modern, classic and contemporary designs, and always strives to offer customers unique and luxurious designer home décor collections.
Email Graham and Brown USA