Neuromechanical Impulse Adjusting Instruments Integrate with RAPID Chiropractic EHR Software Continues; Fall Seminar Series Underway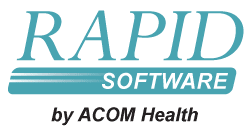 Phoenix, Arizona and Duluth, Georgia, October 20, 2011 – ACOM Health, developer of the RAPID Complete EHR Certified
Chiropractic Software
, continues as an official sponsor of the Impulse iQ Fall Seminar Series presented by Neuromechanical Innovations (NMI), it was announced by the company's CEO, Dr. Christopher J. Colloca, D.C. and Sam Mikhail, ACOM Health's vice president of sales. The seminar series has been underway as of September.
At the two-day seminars, doctors are trained in the use of Neuromechanical Innovation's unique Impulse Adjusting Technique, which utilizes the science and research-based Impulse iQ Adjusting Instrument® along with computer-aided Auto-Sense Technology® to maximize the efficiency of chiropractic adjustments. Its instruments eliminate the need for most manual adjusting procedures, and doctors can see more patients in the same amount of time, with patients to likely achieve greater relief from each visit. Impulse iQ Adjusting Instruments are in use in more than 7,000 chiropractic offices in the United States and around the world.
According to Dr. Colloca, the company's endorsement of the RAPID chiropractic software involved several factors. The solution had to qualify for the $44,000 stimulus incentive. ACOM Health accomplished its complete EHR certification on March 11, 2011. "It's also critical that there be a complete "Meaningful Use" training program in addition to the certified EHR software backed by a team well versed in the Stimulus attestation process to insure that Chiropractors will successfully meet the Government requirements and qualify for the money," Colloca added.
ACOM has shown why they continue to be the best choice for Certified EHR solutions with a proven track record of over 150 Chiropractors already up and running with the ACOM Health system and are ready to take advantage of the 2011 stimulus incentive. As far as we know, that is more than any other vendor in the Chiropractic marketplace.
Additionally, ACOM Health's RAPID chiropractic software accommodates the unique aspects of Impulse iQ treatment reporting. RAPID's on-board intelligence automates SOAP notes and reports, eliminating activities such as dictating and editing reports, and recovering as much as 20 percent of doctors' professional time. RAPID software is built around rigid Medicare standards, assuring completeness and consistency of SOAP notes and reports.
"We are delighted with our association with Neuromechanical Innovations and with the opportunity to expose our solutions to this large community of chiropractors," Mikhail said. "When we learned of the opportunity to work with NMI, we responded enthusiastically to the opportunity. We look forward to continue our mutually productive relationship."
To view the Impulse Adjusting System seminar schedule, visit:
http://impulseseminars.com/seminardates#
About ACOM Health
ACOM Health serves chiropractors with software and services that enhance efficiency, cut costs, and increase practice revenue. ACOM Health's RAPID Chiropractic Software Suite consists of Clinical
Documentation and Notes
; and Chiropractic Practice Management for billing, scheduling, patient management and detailed reporting. For more information, call 866-286-5315 ext. 216, email
acomhealth@acom.com
, or visit
http://www.acomhealth.com