Celebrating National Tree Day with Patient News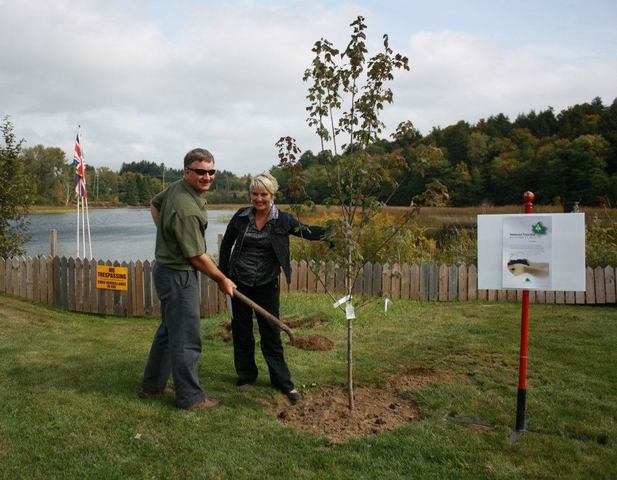 Haliburton, October 21, 2011 – Through the years, Patient News has consistently been recognized as one of Canada's greenest employers and most environmentally progressive printers. On the country's first National Tree Day the company honored Haliburton Forest & Wildlife Reserve, hosting a planting ceremony of a Canadian Maple at the national headquarters in Haliburton, Ontario. "One of six core values of PNP is the environment and green business practices, and we incorporate this into our daily decisions, routines, policies and procedures," says Joanne Bishop, Vice President of Patient News.
Patient News is certified by the Forest Stewardship Council (FCS) after going through a rigorous and voluntary accreditation process. The FSC logo ensures that the print products used are from responsibly harvested and verified sources. The Haliburton Forest, located in the same community as PNP headquarters, is an industry leader in conservation and sustainable forest management practices attracting international acclaim and becoming the first forest in Canada to be awarded with FCS environmental certification.
Patient News was leading the print industry when they adopted green business practices over five year ago, converting to 100% use of FSC papers along with making other measurable contributions to protecting our forests, wildlife and water. "We are proud that our clients can benefit from value-added integrity and product quality for their dental marketing and advertising campaigns" said Karen Galley, President.
The Patient News "Green Team" hosted the planting to celebrate and promote appreciation of the benefits trees provide us - clean air, wildlife habitat, energy demand reduction and connecting with nature.
For more information on Patient News, please contact
jbishop@patientnews.com
, 705.457.4030 x 223.
About Patient News
Patient News is North America's most trusted resource in helping dental practices succeed. Patient News offers a wide range of offline and online comprehensive and innovative dental advertising and marketing solutions. Founded in 1993, our award winning company offers dental advertising and healthcare marketing products in the United States, Canada and the United Kingdom.
Email Patient News Dental Marketing