Gov. Rick Scott Visits Advanced Protection Technologies, Inc., to Promote Jobs & Economic Growth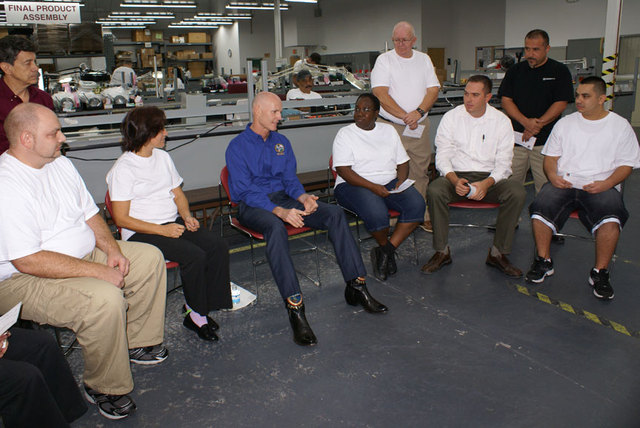 Clearwater, Florida - October 21, 2011 - Governor Scott continued to pitch his 2012 legislative priorities during a morning visit to Advanced Protection Technologies Inc., a company that designs, manufactures and sells surge protective devices. Sales grew 43% in the last year and the manufacturing space expanded by 10,000 square feet. Governor Scott toured the manufacturing plant for about 30 minutes before meeting with a handful of workers, asking them for ideas to create jobs.
Advanced Protection Technologies, Inc. (APT) has been in business in Pinellas County since 1985. What began as a small company of 10 - 15 employees, selling to customers in the Southeast USA, has grown to become a global industry leader with over 100 employees. APT moved to their current Clearwater, Florida location in 1996 with the construction of a 30,000 square foot concrete block facility. In 1999, APT added 11,000 square feet of office and manufacturing space. APT is the industry's largest private label manufacturer of Surge Protective Devices. Current and former private label partners include Siemens Industry, Schneider Electric/Square D and American Power Conversion (APC), as well as a number of smaller, niche market industry leaders.
Realizing that increased production capacity as well as a continued focus on quality is critical to sustaining continued growth, APT embarked on a 10,000 square foot expansion of the manufacturing area and hired additional high-level manufacturing personnel. As a key component to APT's long term growth strategy, the expansion will keep APT at the forefront of an increasingly competitive global marketplace.
APT held a Ribbon Cutting Ceremony on October 5, 2011. The Special Assistant to the Governor was in attendance and was very impressed with APT's work philosophy and overall success despite the current economic downturn. Shortly after the ribbon-cutting, Governor Scott decided to visit APT to promote his economic growth agenda and tour the new 10,000 square foot manufacturing floor expansion. His primary focus during the visit was to spend time with the employees and carefully listen to their concerns. Tracy Wynn has worked at APT for 16 years. She feels Governor Scott can see the company's success and wants others to emulate it. "I really think he's trying to help. He's trying to see this success story, why we've survived so long," said Tracy. Governor Scott answered all questions and outlined his vision for the future of the state. In his comments to reporters, he spoke of his 2012 plan for job growth. "I want to start looking if we can get some temporary permits to get people in business faster," Scott said, "hire people faster, continue the process of reducing regulation."
Tom Chapman, Founder and CEO of APT, issued the following statement at the ribbon cutting ceremony. "We are humbled and very grateful that we are experiencing such exceptional growth in a depressed economy. One of the major reasons is that we have assembled a team that understands and embraces the old-fashioned concept of honesty, integrity and the Golden Rule. We never take for granted that we have been given this opportunity because we live in the greatest nation in the world and, in my opinion, the Tampa Bay Area is the greatest region in our nation. APT was founded and developed with a long-term business philosophy. We have no partners or venture capitalists to answer to nor do we have to succumb to the short-term demands of Wall Street. We are debt-free and have never received any loans, financial grants or industrial revenue bonds from any governmental agency. We love this country and subscribe to the 'Made in America' way of doing business and as long as I am the owner of APT, it will stay that way."
Video coverage from the local news stations can be viewed on Advanced Protection Technologies website at
www.aptsurge.com/spotlight.aspx
. For more information visit
www.aptsurge.com
, or call 800.237.4567 in the US and Canada or +1 727.535.6339 International.
Media Contact:
Julie Brookins/ Marketing & Communications Manager
Advanced Protection Technologies, Inc.
Tel: 800.237.4567 (US & Canada) +1 727.535.6339 x 243
email:
jbrookins@apttvss.com
Email Advanced Protection Technologies