ACOM Announces New MICR Laser Check Printer Alternative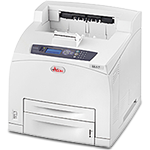 LONG BEACH, California, October 27, 2011 – ACOM Solutions, Inc. has just released a new
MICR printer
– the M47. It is a dual mode printer that may be used as a general office printer connected to a network, or as a secure MICR printer capable of printing negotiable documents such as checks.
In addition to providing clients with a dual purpose printer, the M47 is offered at a price point that, on average, is about 35 percent lower than the competition. There is a significant portion of the market using unsecured laser printers for MICR applications. We believe that portion of the market is underserved and will benefit greatly from the security and quality offered by our economically priced solution. Its current MSRP is $1,395 and its toner will yield 20,000 pages (2.3 cents per page).
"It's a great value. Organizations using printers without MICR check printing security features will find this printer gives them a cost effective means of securing their payment processes" says Jim Scott, senior vice president, core business division at ACOM Solutions, Inc. "We also offer a four-year MICR printing performance and satisfaction guarantee, which is unique in this industry."
When it comes to security, ACOM's M47 offers multiple security features all designed to reduce an organizations exposure to check fraud. An external key lock on the printer case provides MICR On, MICR Off and Printer Off modes. Also, an optional USB drive may be used to secure MICR fonts, electronic signatures and company and bank logos.
Scott further explains that ACOM provides much more than MICR printers, offering clients other related products that make up the complete MICR solution, such as
MICR toner
,
blank checkstock
, and customer service support. "We are a single source solution vendor," says Scott. "This approach saves clients time, money and confusion." Additionally, for most organizations there is a requirement to offer both MICR laser check and electronic payment options to their payees. ACOM provides that integrated capability with its EZPaySuite software solution.
"It was just time to launch our own brand and add to our existing MICR printer line," says Scott. "We are proud to introduce this new product and stand behind it 100 percent."
About ACOM Solutions, Inc.
For more than 28 years, ACOM has automated document and payment processes for 4,000 plus organizations across all industries. ACOM's solutions integrate with any financial/ERP system to dramatically improve efficiency by automating manual paper-based processes.
For more information, call: 800-699-5758; e-mail
sales@acom.com
; or visit
http://www.acom.com
For more information about partner opportunities, call 800-347-3638 x 4150, email
partnerinfo@acom.com
, or visit
http://www.acom.com/channels
Email ACOM Solutions, Inc.