Sensaslim Success amongst Supermodels raises concerns but Sensaslim advises slimming spray intended for overweight and obese people not normal or under-weight models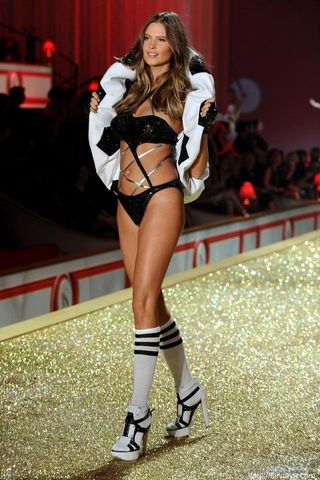 (New York, October 23, 2011) - The success of the Sensaslim slimming spray amongst supermodels has prompted warnings from health experts to stressed out models about the dangers of excessively using the product that is being hailed as a "model's miracle".
Sensaslim Slimming Spray has reportedly become the favourite amongst celebrities and Supermodels with the who's who said to be using Sensaslim with great success.
Sensaslim's Swiss neuroscientists reported at the Obesity Society's 29th Annual Scientific Meeting in Florida earlier this month that they have developed what they believe may be the safest, most effective and easiest way to lose weight.
Created following 20 years of research of taste, weight and appetite control, Sensaslim is said to be an all-natural oral spray that is sprayed onto the tongue and 'tricks' the brain into thinking you are not hungry causing you to eat less.
However concerns were raised with the news that supermodels in New York and London were clamouring to get the Sensaslim slimming spray.
Dr. Richard Bergman, PhD, the honoured presidential keynote speaker at Obesity 2011 warned that models needed to eat more sensibly, not less and that it was potentially dangerous for them to have "too much of a good thing."
Erin O'Connor, the super model and founder of the Model Sanctuary is another one who urges caution.
The Model Sanctuary, housed by a full-time nutritionist and psychologist, is a safe, confidential place where models can discuss issues relating to the modelling world such as eating disorders, stress and self-esteem problems. At the London house, over a thousand models have walked through the doors.
"The talk this year amongst the boys and girls is all about the SensaSlim Slimming Spray and they are describing it as a model's miracle," Erin said.
"As a model for 15 years I understand the attraction of a product that takes your mind of food so you are never hungry, but like all good things, it needs to be used wisely," she said.
Sensaslim Research Director Dr Sommerville said Sensaslim was only to be administered three times a day, by two sprays onto the tongue, ten minutes before meals, and should not be used instead of food entirely.
"Sensaslim was not designed for the underweight or normal weighted people but for those who are overweight or obese and need to lose large amount of weight," he said. "We would not encourage models to use it more than once a day as it is may work too well, as we saw in the case of a jockey who over did it."
YALE UNIVERSITY STUDY CREATES EXCITEMENT
The Swiss pharmaceutical company that develops the slimming spray SENSASLIM announced that it was excited by a Yale University study published this month in the Journal of Clinical Investigation, describing it as a major breakthrough in supporting their product's science that obesity is affected by how well a control system in your brain is working.
see:
http://news.yale.edu/2011/09/19/ditch-dessert-feed-brain
http://www.sciencenews.org/view/generic/id/334505/title/Brain_may_sabotage_efforts_to_lose_weight
Brazilian jockey Wanderon D'Avila successfully sued the distributors of Sensaslim after he lost too much weight by using the spray which led to his disqualification when he rode a horse first past the post but weighed in too light. Supported by documents released from the magistrates Court Document M999/2011on the 8th of April 2011.
On returning to scale the Clarke of Scales reported that D'Avila had weighed in 0.8 kilograms under his allocated weight.
In accordance with AR143 (A) of the Rules of Racing, the horse Short Trip was disqualified and the placing amended to read: 1st: Squidger 2nd: Dragon Size 3rd: Amber Ale and 4th: Intensia.
At a subsequence enquiry jockey D' Avila pleaded guilty to a charge under AR143(A) and after taking into account the circumstances he was suspended from riding in races for one month.
In 20 years as a professional jockey at the highest level D'Avila had never weighed in light.
see:
http://news.ninemsn.com.au/national/8257611/slimming-company-to-fight-too-light-jockey_
For further information go to
www.sensaslim.com
Email Press Releases Worldwide Limited