Unique Skins, Custom Vinyl Cover Manufacturer, Excited for Release of Kindle 4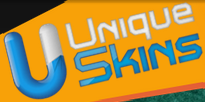 After months of anticipation, Amazon recently released the lighter, smaller, and faster Kindle 4. Priced at only $79 while offering countless upgrades and an even larger book collection, the new Kindle 4 is the best Kindle yet. For those looking to protect their new e-readers, Unique Skins, an electric skin provider based out of Michigan, offers scratch resistant,
custom Kindle skins
.
The Kindle 4 has a variety of new features including built in Wi-Fi, advanced E Ink display, and the ability to borrow Kindle books from your library. The Kindle 4 is also lighter than a paperback and thinner than a magazine, making it easy to carry virtually anywhere.
"My new Kindle arrived a couple days ago and I have been extremely impressed with the new features," said Kristen Donachie, from Ontario. "I bought the Kindle 2 a while back because it was so easy to read, unlike reading from a computer screen. The new features in the new Kindle 4 made my upgrade form the Kindle 2 a wonderful investment."
Unique Skins has made an effort to provide customers with the highest quality
Kindle skins
for those looking to protect their new Kindle 4. The custom design tool on the Unique Skins website allows visitors to customize their
Kindle 4 skin
using their very own images and designs.
Established in 2006, Unique Skins provides the best custom skins for cell phones, mp3 players, laptop, Bluetooth headsets, and gaming consoles. These skins not only protect your device from scratches, dents, and dings but also add a touch of glamour to any device. Fitting your gadgets perfectly and never leaving a sticky residue upon removal, Unique Skins is the ultimate way to personalize and protect your electronic devices.
http://www.uniqueskins.com/