Cricket Communications Introduces "Your Call" Advertising Campaign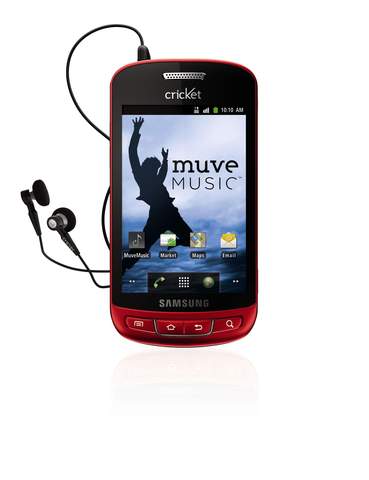 SAN DIEGO, Nov. 3, 2011 — Cricket Communications, a leading provider of innovative and value-driven wireless services, today announced the introduction of one of the company's largest integrated marketing campaigns in company history, featuring the tagline "Your Call." Starting this week, consumers will begin seeing TV advertising showcasing their power of choice and control in selecting and evolving with their wireless carrier's latest offerings. The integrated campaign also includes radio, print, digital, retail, out-of-home and social media elements.
Created with new partner advertising agency TPN, the advertising campaign is a first for Cricket Communications in terms of national scale and reach. The campaign directly follows the announcement of Cricket's major retail expansion with the introduction of select products, including Muve Music™ service, into more than 1,300 Best Buy and Best Buy Mobile specialty stores nationwide.
With a voiceover stating "So you can line their pockets, or load your library," the TV spot challenges consumers seeking real value in their life experiences not to settle for expensive, limited plans that will stretch their wallet – it's their call. View the TV spot.
Looking to introduce Cricket's brand nationwide and significantly increase the awareness of its value-rich products and services, the campaign was designed to elevate the brand within the pre-paid category, and highlights some of Cricket's most recent product innovations, such as Muve Music, which entitles consumers to
download music, talk, send text messages
, stream video and surf the Web at an attractive price.
"We feel it's critical to foster a straight-forward, honest atmosphere and tone both internally throughout our company and also when talking to consumers. We recognize they are fatigued by limited, binding contracts and hidden fees, and need to know that Cricket offers pre-paid options, including a premium experience with the latest smartphones and unlimited talk, text and data," said Jaime Vasquez, vice president of consumer marketing, Cricket Communications. "'Your Call' is our challenger brand mentality in a visual form, demonstrating that we are a premium, but also value-driven, option for consumers who don't want to sacrifice quality and ease of their communications."
To follow Cricket's latest news and updates online, go to Facebook at
www.facebook.com/cricketwireless
and Twitter at
www.twitter.com/cricketnation
.
About Cricket
Cricket is the pioneer of simple and affordable unlimited wireless services with no long-term commitments or credit checks required serving approximately 5.8 million customers. Cricket products are available nationwide. Cricket offers wireless voice and broadband Internet services over the latest technology, high-quality, all-digital 3G CDMA2000 1X and 1xEV-DO wireless network. Cricket's nationwide wireless voice service plans include unlimited anytime minutes, unlimited U.S. long distance, unlimited text and picture messaging, unlimited text to Mexico, unlimited Mobile Web, unlimited directory assistance, as well as a variety of calling features and feature-rich mobile applications such as popular games, ringtones and wallpapers. For more information on Cricket, visit
www.mycricket.com
. Cricket is offered by Leap Wireless International, Inc., headquartered in San Diego, Calif. For more information on Leap, visit
www.leapwireless.com
.
SOURCE Cricket Communications
Email Cricket Communications