Sensaslim Rescue Mission to save Obese Child from Compulsive Eating Disorder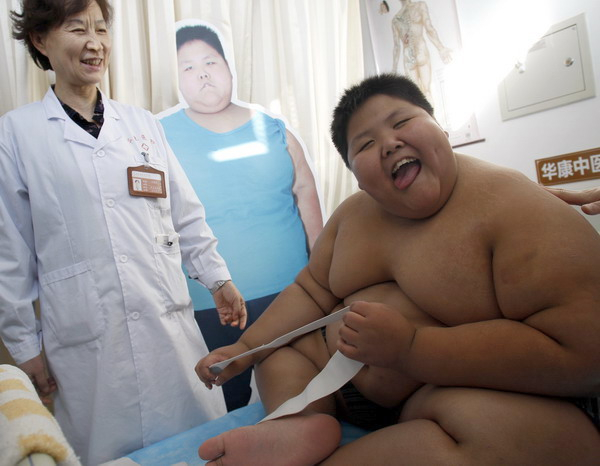 BEIJING (November 6, 2011) - At 155 kilograms, 10 year old Le Le weighs almost four times more than other boys his age. He has been diagnosed with a compulsive eating disorder, has already developed a fatty liver, runs a high risk of heart disease and high blood pressure, and is gorging himself to an early death.
However a Swiss slimming company has thrown him a lifeline by having their scientists prepare a special formulation of their successful SENSASLIM slimming spray that is safe for children, and had it rushed to China.
Le Le is being treated at Beijing Huakang Hospital.
Like most 10-year-olds, Le Le at first pulled every trick in the book to get out of the treatments - crying, screaming for his mother or fidgeting so much that the nurses had to give up.
Wang Chunrong, a hospital psychologist, who read a newspaper report of Chinese models using SENSASLIM to spray away their hunger at Beijing Fashion Week, brought Le Le's plight to the attention of Fashion Week organizers.
"The models felt so concerned about Le Le they contacted Sensaslim direct to ask for help and to see if they could get him a supply sent into China," Chunrong said.
Sensaslim Asia CEO Mr Stephen Kao said that SENSASLIM wouldn't be available in China until next year, but Le Le became a special emergency case.
"We also don't have a product designed for children," Mr Kao said. "However Le Le's plight is so disturbing that we have had our scientists prepare a special formulation that will be safe for him to use."
SENSASLIM is an oral spray that is administered three times daily onto the tongue, ten minutes before meals. Its natural active ingredients enter the blood stream and naturally suppress the appetite. Simultaneously, the taste buds are pleasantly desensitized by a natural herb. This sends a message to the satiety center in the brain removing the desire to eat.
SENSASLIM has been described as a "model's miracle", after being discovered at New York Fashion Week, and Sensaslim's success soon spread with the supermodels as they travelled to London, Paris, Milan and Beijing.
Le Le's parents, who were becoming increasingly concerned about their son's health, explained that he started gaining weight when he was one year old.
"Everything we did to try and help him lose weight either had no effect, or was too expensive to keep up or the boy refused to do it," Le Le's mother said.
Not only has Le Le's childhood obesity seriously harmed his health, it has also caused problems in and out of the classroom.
For school bullies, the child is an obvious target: He is 1.6 meters tall, weighs almost four times more than other boys his age, and he has been forced to wear the same stained and faded trousers for years because his mother struggles to find him clothes that fit.
"We just hope the treatment will allow our son to live and have a normal life," added Le Le's mother.
Email Journalists Worldwide Limited