Dr. David Ulanet DDS Offers Convenient Single Source Dentistry to Little Falls Area Residents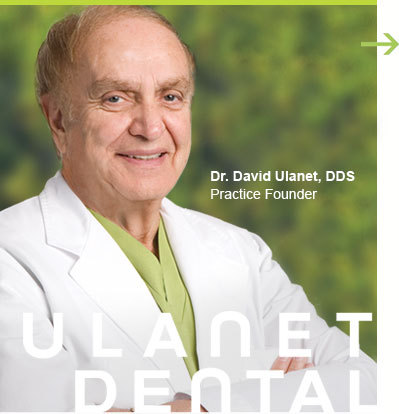 November 11, 2011 – Little Falls, NJ – Recognizing that patients are too hard-pressed for time to scurry from one location to another for dental specialties, Dr. David Ulanet has created in Little Falls, New Jersey the area's only multi-specialist practice with general dentistry, oral hygiene, a pediatric dentist, an orthodontist and a periodontist all under one roof at
Ulanet Dental
.
Anyone who cares about the look of their smile, the health of their teeth and the sensitivity of their gums also has encountered the frustrations of coordinating visits at different locations with a variety of dental practitioners. As a pioneer in worry-free dentistry, Dr. Ulanet believed it made sense to maximize convenience by offering comprehensive care in one location through a multi-specialist practice that focuses on the total needs of each patient.
Ulanet Dental now includes Dr. David Ulanet and Dr. Monila Reheman, DMD, for general dentistry; Dr. David Sperling for pediatric dentistry for children and handicapped individuals; Dr. Thomas Rafferty, periodontist; and Dr. Ranu Shina, orthodontist. The practice serves residents in the Little Falls, Cedar Grove and Verona area and renders the finest quality care while being especially sensitive to the needs of patients who have anxieties about visiting the dentist.
"As dentistry developed into specialty areas that required unique talents, I realized that patients were dismayed that they had to go to different locations for services," stated Dr. David Ulanet. "I decided to bring those specialties under one roof, so that any patient I saw could be referred across the hall instead of across towns. Now our patients come into Ulanet Dental to have their teeth cleaned and whitened, get state-of-the-art Invisalign teeth straightening, have a root canal and teeth implants for missing teeth, and for soft tissue laser treatments of gum disease. Our patients couldn't be happier about the ease of taking care of their dentistry needs."
About Ulanet Dental
Ulanet Dental was founded by Dr. David Ulanet, who studied at the University of Pennsylvania and has consistently improved his craft over the decades through continuing education that enhances his utilization of the latest advanced techniques, state-of-the-art equipment and modern materials. He has been named a member of America's Registry of Outstanding Professionals.
To schedule an appointment with one of the members of the Ulanet Dental team, call 973-256-2222. Ulanet Dental is located at 81 Newark Pompton Turnpike (Route 23), Little Falls, NJ and is open Monday, Tuesday, Thursday, Friday, and Saturday and available on 24-hour call for emergencies. For regular hours and service details, visit
www.ulanetdental.com
.
Email Little Falls Dentist