Wireworld® Cable Technology Introduces Starlight® USB 3.0 Cable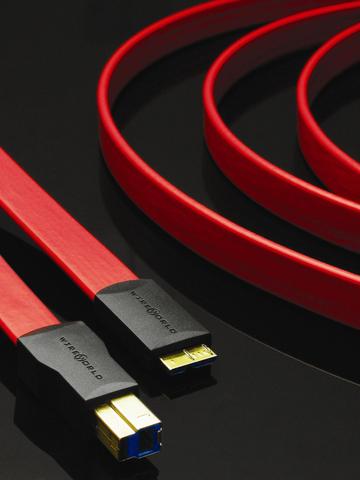 Wireworld
has announced what could be the first high-end cable in the USB 3.0 format. The Starlight USB 3.0 SuperSpeed cable is a flat and highly flexible cable that utilizes proprietary conductor geometry and upgrade materials to improve sound quality. To increase transmission speed and reduce jitter, Starlight's Symmetricon® design utilizes twelve signal conductors in place of the nine conductors used in other USB 3.0 cables. The cable's oversized conductors are made of silver-clad oxygen-free copper, providing increased efficiency and natural tone quality.
Another exclusive feature of the cable is an isolated power conductor for quieter power that improves signal purity.
Starlight USB 3.0 cables are available in both A to B and A to microB configurations in lengths of 0.5 Meter to 5 Meters. The one meter lengths of both configurations will sell for $119.95 when they become available in January 2012.
Wireworld Cable Technology, which was founded by renowned designer David Salz in 1992, is the premier provider of leading edge digital and analog cable technology for home audio and video, from HDMI and Displayport technologies to state of the art high-end interconnects and speaker cables. The company has an unmatched reputation for producing superior cables based on the use of objective perceptual testing, innovative patented designs, premium materials, and exceptional manufacturing quality.
Email Wireworld Cable Technology