MMA-Based Fitness Equipment System Now Available at Nexersys.com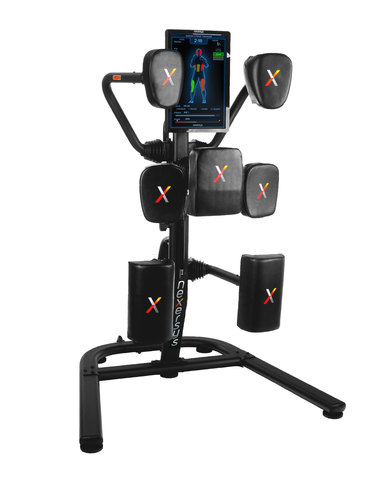 AUSTIN, Texas - The
fitness equipment system
Nexersys Corporation announced at UFC 136 Fan Expo is now available to the public at the firm's website, Nexersys.com. The high-tech Nexersys iPower Trainer™ delivers the adrenaline rush of MMA sports training, the interactivity of modern videogaming, and the motivational boost of a personal trainer. For those asking for something more from their fitness equipment, the iPower Trainer provides a professional-grade answer.
Nexersys' new fitness equipment system made its debut at the UFC Fan Expo in Houston on October 7, with UFC fighter Urijah Faber and Nexersys CEO Terry Jones in attendance. Nexersys is also a sponsor of MMA professional Chael Sonnen, who defeated Brian Stann in their bout that night at the UFC Fan Expo.
"We think the launch of the Nexersys is the most significant development in fitness equipment in the last 20 years – creating a new category in the
personal training
market through a 2-way communication, fully interactive experience," Jones said. "The trainer is incredibly easy to use, offers great instruction on form and technique, builds fitness at a pace that other equipment can't match and is just a blast."
The high-intensity mixed martial arts (MMA) interval training workouts experienced with the
iPower fitness equipment
lead the user through 4-minute cardio, core, strike and technique video training and Avatar sparring rounds. The iPower fitness system features seven strike pads located in three strikes zones (head, body and legs). Accelerometers in each strike pad capture extensive data on each strike and send it to the built-in computer, which generates individualized performance feedback to the user. Feedback includes accuracy, pace, power, heart rate, caloric burn and points when playing Avatar Strike Training. Pads are digitally calibrated to adjust for gender and distinguish between the strikes used in strike training and the touches required in cardio and core training. Nexersys has programs for beginner, intermediate and advanced fitness levels, providing an effective fitness experience for all users.
Consumers interested in this dynamic fitness equipment system can find the Nexersys iPower Trainer at
www.nexersys.com
for $2,295.00 with interest-free financing payments starting as low as $75.00 per month. A commercial edition will be available in January 2012 for hospitality businesses, commercial gyms, first responders and the military.
About Nexersys Corporation
Fitness equipment maker Nexersys is leading a fitness revolution and pioneering the expanding "exergaming" market with the iNTELLIGENT and iNTERACTIVE iPower Trainer. Combining the latest in exercise equipment and interactive gaming, the Nexersys iPower Trainer is a professional-grade multimedia fitness product that delivers the motivation of a personal trainer, the benefits of a
mixed martial arts
high-intensity interval training workout and the entertainment and feedback available from today's gaming and computer technology. Nexersys was founded in 2009 and is headquartered in Austin, Texas.
Email Nexersys Corporation