Gallery Atlantic Rolls Out the Red Carpet and Introduces a New Web Experience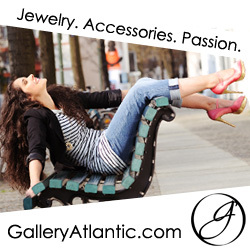 The online jewelry boutique enhances its site by incorporating easy-to-use functionality and bringing style experts on board in order to embody its motto: "Explore Trends. Shop Fashion."
While offering an array of jewelry and fashion accessory items for purchase in an integral part of the
Gallery Atlantic
experience, the team has revamped the layout, creating a whole new "look and feel." The most notable changes are evident from merely glancing at the new homepage, where not only has a more vibrant color scheme been created, but more dominating editorial elements have been highlighted.
In addition to a featured guest blogger having the opportunity to contribute to Gallery Atlantic, a community of fashion experts are listed on a rotating basis under "The Latest Buzz" section.
Jewelry is wearable artwork- and these experts have interviewed the designers, experimented with showcasing the jewelry pieces in various outfits, and then reviewed the high quality products- in order to allow users to purchase confidently in an industry that generally dominated by a "see it, touch it, feel it" mentality.
The goal is to enable shoppers to connect with the jewelry and accessories available at Gallery Atlantic in the same way that they would connect with a piece of art, whether it is through the designer's story or an understanding and appreciation for the craftsmanship behind each piece. Gallery Atlantic takes pride in featuring established jewelry makers that are well-respected in the industry. Because these jewelers are so respected, Gallery Atlantic makes sure that they receive generous coverage on newly created designer pages.
Users will be able to connect with the jewelry by reading corresponding content that will be featured next to each piece, whether contributed by a member of the editorial staff or by an influential guest blogger.
A new navigation process has also been implemented that decreases the amount of clicks it takes for the user to navigate from the homepage to completing an actual purchase. In addition, new filters have been added, enabling buyers to zero in on pieces that match their needs exactly. This simplifies the shopping experience, yet the user's visit to the website is still being enhanced with added content.
For more information, visit
www.galleryatlantic.com
and direct any questions or comments to:
customercare@galleryatlantic.com
.
Want to guest blog for Gallery Atlantic? Contact us.
Email Gallery Atlantic, Inc.