WellcomeMat Announces Strategic Real Estate Video Fulfillment Partnership With StudioNow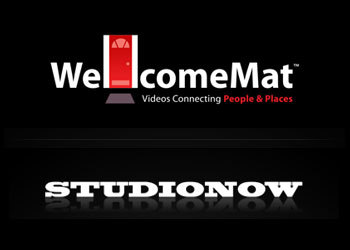 Boulder, CO - November 28, 2011 -
WellcomeMat
and StudioNow today announced an agreement for StudioNow to offer expedited, nationwide video production services to WellcomeMat customers and partners. The agreement enables real estate brokerages, brands and individual professionals to order high quality videos from StudioNow and seamlessly integrate, distribute and measure their content via the WellcomeMat mobile and web video platform. StudioNow is a division of AOL's Advertising.com Group.
"Every good real estate video strategy answers two questions," said Christian Sterner, founder of WellcomeMat. "How can every member of our team create quality content and what will we do with our videos to connect with new and existing customers? By featuring StudioNow's highly qualified and trusted network of professional production talent with full customer support, WellcomeMat has greatly enhanced its capabilities as an all-in-one solution for real estate brands wishing to lead the real estate video revolution."
"StudioNow is thrilled to partner with WellcomeMat (
http://www.wellcomemat.com
) in this endeavor. Our customizable platform and network of 5,000 professional filmmakers located across the country are the perfect complement to their best-in-breed video distribution strategy", said David Mason, Founder and CEO of StudioNow. "Furthermore, the relationships that WellcomeMat has with high-end real estate brokerages are an excellent outlet for StudioNow to expand its anytime, anywhere production capabilities."
About WellcomeMat
Founded in July of 2006, WellcomeMat is a profitable, web and mobile video platform best known as the leader of real estate video. Relied upon by more than 15,000 real estate agents and many of the industry's leading brands nationwide, WellcomeMat connects video pros with its clients and answers all questions related to what to do with quality real estate video content.
About AOL
Having helped millions of Americans to get online, AOL Inc. (NYSE: AOL) is on a mission to inform, entertain and connect the world. The home of a growing collection of premium brands, AOL creates original content that engages audiences on a local and global scale. We help marketers connect with these audiences through effective and engaging digital advertising solutions.
Media Contacts:
WellcomeMat
Rudolph Bachraty
rudy@wellcomemat.com
646-248-7793
AOL
Mandy Albers
mandy.albers@teamaol.com
212-652-6394