The Big 3 continue to dominate the Open Source CMS race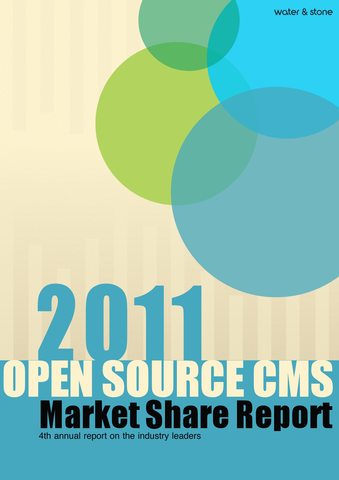 Bali, Indonesia –
water&stone
has released the fourth annual Open Source CMS Market Share Report.
PHP-based systems WordPress, Joomla! and Drupal continue to dominate the web content management space. But, while the Big 3 remain unchanged from last year, the Report concludes that WordPress has re-taken the overall lead from Joomla! While the Big 3 remain unchanged from last year, the Report concludes that WordPress retains a clear lead in the face of decreasing competition from Joomla!.
"WordPress turned in another strong year, clearly outpacing both Joomla! and Drupal," notes lead analyst Ric Shreves. "Looking beyond the Big 3 we find a considerable amount of movement in the market, with several smaller systems turning in solid performances this year. Concrete5, in particular, had a very strong year."
Though PHP-based systems remain the populist choice, the survey places two .NET and three Java systems in the Top 20. DotNetNuke remained the market leader in the .NET space. In the Java WCM space, Liferay and Alfresco are fighting a closely matched battle.
The findings in this year's report were based on a survey of more than 2,500 CMS users, together with research into a wide variety of measures of market share and brand strength.
The Open Source CMS Market Share Report was launched in 2008 by digital agency water&stone. The Report is non-commercial and released under an open license. Since its inception, the Open Source CMS Market Share Report has become the industry standard for purpose of defining market share and adoption rates in the open source content management system market.
>> You can download a copy of the 2011 Open Source CMS Market Share Report from
http://www.waterandstone.com/book/2011-open-source-cms-market-share-report
About the publisher
water&stone
water&stone is a full service digital agency, located in Bali, Indonesia. The company is focused on helping clients realize increased value from the implementation of open source tools, in particular open source content management systems.
water&stone was formed in 2003, specifically in response to the growth and maturation of open source CMS solutions. Since that time, the team has delivered more than 500 web projects to clients located all over the world. As an indication of their expertise, many of the firm's clients are other web development and design studios located in Australia, the UK, North America and Europe.
In addition to design and development, water&stone provides consultancy and search marketing services, including brand monitoring and reputation management.
Contact water&stone via email:
contactus@waterandstone.com
Visit the company site:
http://waterandstone.com
Become a Fan on Facebook:
http://facebook.com/waterandstone
Follow water&stone on Twitter:
http://twitter.com/waterandstone
Media Contacts:
Please contact Ric Shreves by email at
ric@waterandstone.com