Win a Lionette La Jolla necklace, exclusively from Gallery Atlantic, It's as easy as logging onto your Facebook account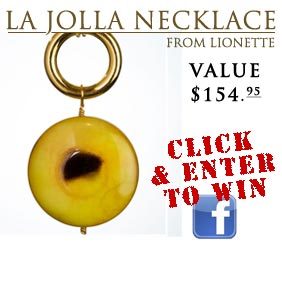 December 12, 2011 - The sweepstakes began on November 22, 2011 and the winner will be announced December 22, 2011. And before you raise those eyebrows, relax: no purchase is necessary to enter or win the Lionette La Jolla Sweepstakes. You can still enter this sweepstakes but, time is running out.
Just follow these easy steps:
Starting now entrants may register online at
http://www.facebook.com/pages/Gallery-Atlantic/122950957731649
Alternatively, you can go to the
GalleryAtlantic.com
website and click on the "Sweepstakes" tab. Click on the "Enter Sweepstakes" button. Enter your information and remember to check that you have entered your info accurately.
In order for the electronic entry to be valid, participants must enter all the correct information as requested by the site.
Next, click the "Like" button, and check the box acknowledging that you agree to the official sweepstakes' rules. Then, click the submit button, and you are ready to go!
The winner will be selected by a random drawing on December 22, 2011. The winner will be contacted within 72 hours after the announcement. If the winner fails to reply within 72 hours of the first notification attempt, or if the prize notification is returned as unclaimed or undeliverable to said winner, the winner will forfeit his or her prize and an alternate winner may be chosen.
For more information on the Lionette La Jolla Sweepstakes, go to
GalleryAtlantic.com
, and good luck!
Email Gallery Atlantic, Inc.